See how Linktree worked with Influx to extend their internal team and capitalize on all hours of the day. Read the case study!
Considering implementing 24/7 or after-hours customer support? Your timing couldn't be better.
Customers expect nothing short of exceptional service, and with the follow the sun model, it's much easier to give customers the best experience. Read the top stats on why you should use the follow the sun model to kick off 24/7 support.
24/7 customer support stats
Meeting customer expectations is paramount in today's fast-paced and highly competitive business landscape. The advantages of 24/7 customer support extend far beyond availability. Here are some of the most compelling reasons why businesses are increasingly recognizing the value of 24/7 customer service.
Meet customer demand
51% of people say a business needs to be available 24/7 to meet their modern-day expectations of convenience and accessibility. This demand highlights the growing importance of round-the-click customer support in today's competitive market.
Retain more agents
Companies that offer 24/7 customer service have an average occupancy rate of 98%, while companies that have regular 8-hour windows have a 30% occupancy rate.
Improve conversion rate
50% of consumers say that having a live person answer questions in the middle of a purchasing decision is one of the most important features a brand can offer. Responding quickly can improve conversion rate by reducing the sales cycle.​​​​​​
Respond faster
75% of customers demand fast responses from agents. Yet, the average response time for customer service emails is 12 hours. A 24/7 team allows businesses to respond faster to customers, increasing satisfaction and loyalty.
Strengthen customer relationships
90% of consumers want to talk to a human agent instead of using phone menus. While some businesses use chatbots to provide 24/7 customer support, using human agents to ensure round-the-clock customer service can go a long way toward creating satisfied and loyal customers.
Foster enhanced customer loyalty
93% of consumers are likely to make repeat purchases with businesses that offer excellent customer service. After-hours customer support is a good opportunity to encourage existing customers to remain loyal.
Gain a competitive edge
50% of customer support teams are only available during business hours Monday to Friday, and only 28% of teams are available 24/7.
Reduce ticket backlog
90% of the customers rate an "immediate" response to be an important factor when they seek customer service assistance, and 60% of customers define "immediate" to be within 10 minutes or less. Round-the-clock support is an opportunity to respond to customers faster without having to log on to a backlog of after-hours queries.
Increase customer satisfaction
96% of consumers say customer service is important in their choice of loyalty to a brand. 24/7 support sends a clear message that a company is dedicated to addressing customer needs swiftly and efficiently, ultimately creating stronger customer loyalty.
See how Biteable worked with Influx to deliver fast, high-quality support experiences 24/7. Read the case study!
Follow the sun model
In an era where customer support is not merely a service but a critical component of brand success, businesses constantly seek innovative solutions to meet and exceed customer expectations. Enter the follow the sun model, a customer support strategy that has gained widespread recognition for its advantages over traditional graveyard shifts.
Let's explore the numerous advantages that make this model an increasingly attractive option for companies committed to delivering exceptional customer support.

Improve the customer experience
Roughly 70% of customers prefer a same-day response. Offering round-the-clock support signifies a company's commitment to delivering prompt assistance when needed.
Promote a sustainable work-life balance
Most employees do not want to be at work 12 or 16 hours a day. The follow the sun model gives employees their lives back to spend more time with family. Working normal daylight hours keeps employees happy, healthy, and motivated to work while the company is still able to offer round-the-clock service.
Enhance employee satisfaction
Night shift workers have a 40% increased chance of experiencing depression and anxiety. The follow the sun model is a sustainable option for offering 24/7 support that keeps your customers and employees happy.
Scale faster
Businesses can grow revenues between 4% and 8% above their market when prioritizing better customer service experiences. Putting customer needs first helps companies scale up faster.
57% of employees say a poor work-life balance is a deal-breaker when considering a job. To meet higher demand, the follow the sun model makes recruiting and retaining agents easier.
Meet customer expectations
Nearly half of all customers (46%) expect companies to respond faster than 4 hours, while 12% expect a response within 15 minutes or less. When customers need help, they don't want to wait. The follow the sun model meets customer expectations by being responsive at all hours of the day.
Recruit better talent
The call center industry in the United States faces an overall average turnover rate of 30-45%. When it's already difficult to recruit and retain agents, businesses cannot afford to risk the inevitable attrition of graveyard shifts.
Retain more customers
87% of people expect an email response time in under 1 day, with 30% of consumers expecting an email response in an hour or less. The follow the sun model reduces ticket backlog and enables businesses to respond faster, increasing customer satisfaction.
Improve first response time
In most call support, the goal is that 80% of tickets should be responded to within 20 seconds. Agents working round-the-clock play a crucial role in achieving this swift response time, ensuring that customers receive timely assistance whenever they reach out for support.
Boost performance with increased productivity
A study of 4,188 U.S. workers found "significantly lower productivity, performance, and safety outcomes" among those who slept less and estimated a $1,967 loss in productivity per worker due to poor sleep. Alertness and performance remain most impaired during night shifts due to sleep deprivation and circadian misalignment. Working standard shifts rather than graveyard shifts improves performance and productivity, resulting in higher-quality support experiences.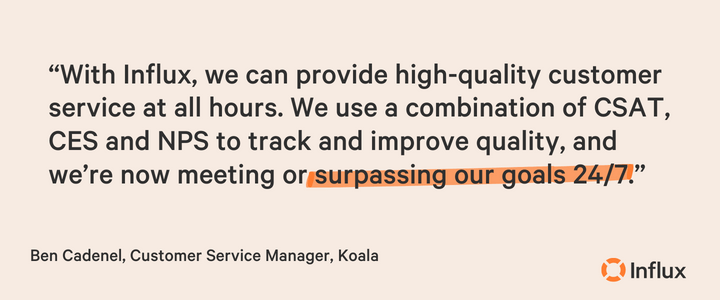 Offering 24/7 or after-hours support through the follow the sun model is not just a convenience; it's a strategic approach that prioritizes customer satisfaction by delivering consistent, high-quality solutions.
Ready to expand your operations and support customers through all hours of the day? Extend your internal team with Influx. Work with fully flexible month-to-month support teams with all management and training included. Get a quote now!