It's been an incredibly fun and exciting 2016 for Influx, and while this time of year can actually be one of the busiest times for customer support, I still like to take the time to take a step back and look at everything we've accomplished in just 11 months. I often think of startups as being in the business of constantly learning, iterating, and launching new things, and we've definitely done that on all fronts: product, ops, recruiting, marketing and sales. Here are some highlights!
We Have a New Mission
To Deliver Consistently High-Quality Customer Service, 24/7.
This is a really hard thing to do. Delivering customer service is fairly straightforward. Delivering high-quality customer service is harder, but doable too. Delivering consistently high-quality customer service, every day of the week, every week of the year, at all volumes, through all the ups and down of every type of business is really hard, and it's the problem we've spent the last three years figuring out how to solve! We think we've almost nailed it too :)
New Identity + Website + Logo
We purposely built the new Influx.com so that we could expand and iterate it over time. We're in the business of doing many things for many types of companies, so we wanted our website to reflect this. The new buoy logo reflects safety and stability, two things we want to provide for all of our clients and their customers.
New Support QA Tool for Clients and non-Clients
We've been regularly QA-ing all of our clients conversations as part of our training and feedback process for agents for a while now, but starting in September, we decided to separate the QA service from our existing app, and use it as a standalone service as well. We can now audit anyone's help desk, and we do it for free too.
What's exciting about this is that in addition to helping non-clients figure out how to improve, we're starting to build benchmarks around acceptable levels of support quality for SAAS, eCommerce, tech companies and mobile apps.
New Team Members
We've been hiring amazing people all around the world as part of our global expansion. In addition, we decided to boost two specific growth areas with a new head of recruiting and a new head of marketing.
We're Sharing Our Client's Stories
What's exciting about our business is that we often get to see our clients grow really fast. Two of them have already grown 4x in just 4 months, and one client raised 27 Million. That's some really fast growth!
Here's the story of Annex Products and how they applied the 80/20 rule to customer support, focusing their founder time on how to proactively improve the product and customer experience, while still maintaining an excellent support experience overall.
We're Growing Faster than Ever
The fun part of building a startup is you're (almost) always growing. You're in the business of looking forward and figuring out how you can grow 3x, then 5x, then 10x. Our growth trajectory is looking better than ever. Just in the last two months, we've signed up 20 new clients, whoa!
We Had Some Fun
While we all work long days and weeks, with impromptu Slack conversations seeming to happen at all hours, we also understand that we're really lucky to be building a startup in the world's most livable city. We've got an amazing team that works hard, but also knows that this is a marathon, not a sprint. We've had some amazing afternoons and evenings, enjoying our time at The Commons and kicking back when needed!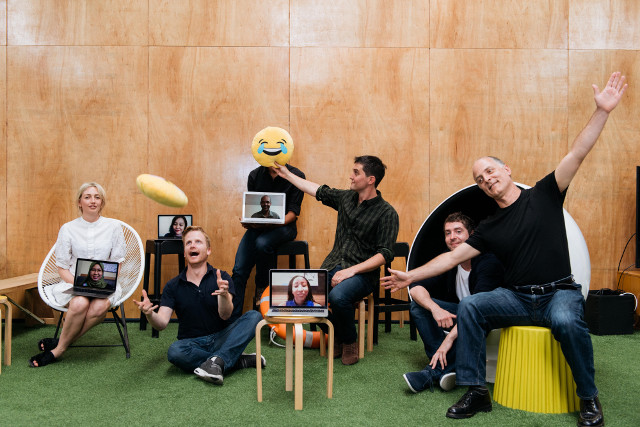 We had a little fun between team photo shoots :)
Bring on 2017! And thank to everyone who helped make this possible!