I'm excited to announce our new FREE forecasting tool for any company using Zendesk. With Support Forecaster, get the following data monthly:
Expected inbound tickets and outbound responses per month for the next 12 months.
Headcount, agent efficiency, inbound and public responses for the previous 12 months.
Recommended headcount for the next 12 months
Get a handy graph and CSV output that looks like the following: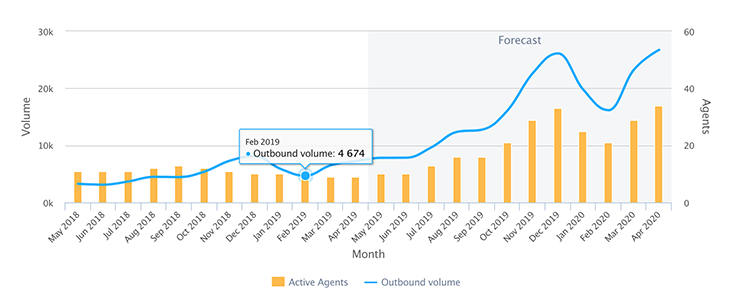 How it works:
Our system pulls in your monthly help desk data
Our system normalizes this data by month
We forecast future monthly inbound volume based on monthly growth rates from the previous 12 months
We estimate outbound volume and agent efficiency based on the previous 12 months
Your data and forecast updates monthly
Some use cases:
Estimate inbound ticket volume for Black Friday sales or holiday periods
Identify monthly trends for inbound volume
Identify when your agents are most/least efficient (and why)
Identify a realistic output per agent number
Identify hiring needs for the next 12 months
At Influx, we help our clients deliver consistently high-quality support experiences. To do this, we found that we needed better forecasting tools to help our clients make decisions.
To learn more about Influx, check out some of our information pages on how it works, Support as a Service or support outsourcing.
You do NOT need to be an Influx client to use our forecasting tool.
Hope you find it helpful!
For any follow up requests or ideas, send us a message at forecaster@influx.com