Need an extra layer of customer support? See how Influx builds high-performance customer support teams with all management and training included.
A robust refund policy is the cornerstone of a positive customer experience. In fact, 66% of digital buyers check the order return policy before purchasing a product. (AOVUP)
Knowing the ins and outs of a company's return policy provides customers with confidence and peace of mind when making a purchase. It ensures transparency, reduces uncertainty, and fosters trust.
Use this blog as a resource to understand how different policies work and their impact on customer satisfaction. Jump ahead for the top 15 refund and return policies with scripted customer support examples:
What is a return and refund policy?
A return and refund policy, often referred to simply as a "return policy," is a set of rules and guidelines established by a business that outlines the terms and conditions under which customers can return or exchange products they have purchased and request a refund or store credit.
Why your business needs a return policy
More than a third of customers (35%) will only shop from a website with a generous returns policy. (Ready Cloud) A solid return policy is a fundamental necessity for businesses for several compelling reasons:
It fosters customer trust and confidence by providing transparency and clarity regarding the terms and conditions under which returns and refunds are accepted. This transparency can enhance a business's reputation and customer loyalty.
A well-defined return policy helps businesses manage and streamline the return process, reducing operational complexity and the risk of disputes. It also minimizes the potential for fraudulent returns.
In today's highly competitive marketplace, a customer-friendly return policy can be a significant competitive advantage, attracting new customers and retaining existing ones.
Ultimately, a solid return policy serves as a win-win, benefiting both businesses and their customers by promoting fairness, trust, and a positive shopping experience.
10 key components to include in a return policy
A well-crafted returns policy should cover various aspects to ensure clarity, fairness, and customer satisfaction. Here are the key elements that a business should include in its returns policy:
Return conditions: This section defines the circumstances under which customers can return a product. Common conditions include receiving damaged or defective items, receiving the wrong product, or changing one's mind about a purchase.
Timeframe: The policy specifies the time period during which returns are accepted. For example, returns may be allowed within 30 days of purchase.
Return eligibility: It outlines the criteria that the returned item must meet to be eligible for a refund or exchange. This may include factors like the product being in its original packaging, unused, and with all tags attached.
Refund options: The policy explains whether customers can receive a full refund, partial refund, store credit, or an exchange for a different product.
Return shipping: It may detail who is responsible for covering return shipping costs, whether it's the customer or the business.
Restocking fees: Some businesses may charge restocking fees for returned items, especially for electronics or certain high-value products.
Exceptions: This section highlights any specific products or circumstances not covered by the return policy. For instance, perishable items, custom-made products, or digital downloads may be excluded.
Process: The policy outlines the steps customers need to follow to initiate a return, including contacting customer support, filling out return forms, or providing proof of purchase.
Contact Information: It provides customers with contact details to reach out for assistance with returns or refunds.
Legal Compliance: Ensure that your policy complies with relevant local, state, and federal consumer protection laws and regulations.
By incorporating these elements into your returns policy, you can establish clear guidelines, prevent misunderstandings, and create a positive shopping experience for your customers while efficiently managing returns and refunds for your business.
The most common refund and return policies
Full refund policy
A complete refund if the customer is dissatisfied with the product or service, no questions asked, within a specified time frame.
"Hey, [Customer Name]! We genuinely want you to love what you buy from us. But, we're all human, and sometimes a product might not be exactly what you expected. If you're not 100% happy with your purchase, we'll refund you. Would you like me to start the refund process?"
Half of customers (50%) expect to receive a full refund for a return, and 58% of customers want a no-questions-asked return. Offering a full refund policy is a customer-centric approach that can help build trust, boost satisfaction, and encourage sales.
Partial refund policy
A percentage of the purchase price is refunded, typically when only a portion of the product or service was unsatisfactory.
"Hello there, [Customer Name]! We're all about making sure you're happy with every purchase. We aim for the best, but we get it—things don't always click. We've got a partial refund policy in place for situations like this one. Would you like me to walk you through our refund process?"
Businesses offer partial refunds for several reasons, all of which are aimed at achieving a balance between customer satisfaction and protecting their financial interests. Some reasons include service disruptions, price adjustments, defects and damages, missing the return window, or product usage.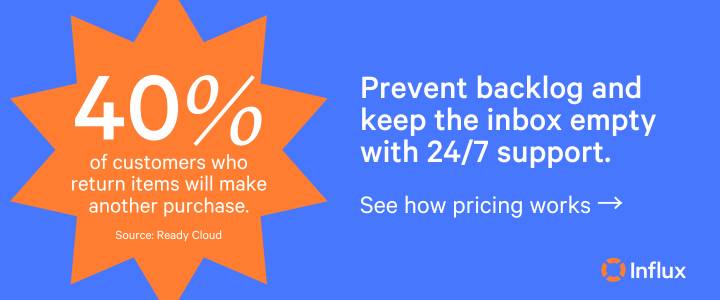 No refund policy
Some companies do not offer refunds under any circumstances, particularly for digital products or personalized services.
"Thanks for reaching out about your concern, [Customer Name]. I'm sorry to hear that you're not completely satisfied with your purchase. While we don't have a refund policy in place, we're absolutely committed to making things right for you in any way we can. Feel free to share more about the specific issue, and we'll do our best to find a solution."
Exchange only policy
Customers can exchange the product for another one of equal or lesser value but are not eligible for cash refunds.
"Hi [Customer Name], thanks for your message! We offer exchanges for our products rather than refunds. You can swap your purchase within [X] days as long as it's in its original, unused condition. Would you like me to assist you throughout the exchange process to swap your purchase for another item of equal value?"
Businesses considering or implementing an exchange-only policy should be aware of several important factors to ensure the policy is effective and customer-friendly. Here's what businesses need to know about exchange-only policies:
Clear communication
Eligibility criteria
Final sales items
Customer responsibilities
Return location
Inspection process
Legal compliance
Documentation
An exchange-only policy can be a valuable tool for businesses looking to provide flexibility to customers while managing their own operational and financial considerations.
Store credit
Instead of receiving a cash refund, the customer is given a credit voucher or card that can be used to make future purchases at the same retail store.
"Hi [Customer Name], thanks for picking [Business Name] for your recent purchase! While we can't offer a refund for this product, we're happy to give you store credit as an alternative. If you're interested in swapping your product for store credit, just let us know, and we'll get the process started right away."
Businesses should train their staff to handle store credit transactions and inquiries effectively. Proper record-keeping and tracking systems are essential for managing store credit, including recording balances, transactions, and expiration dates.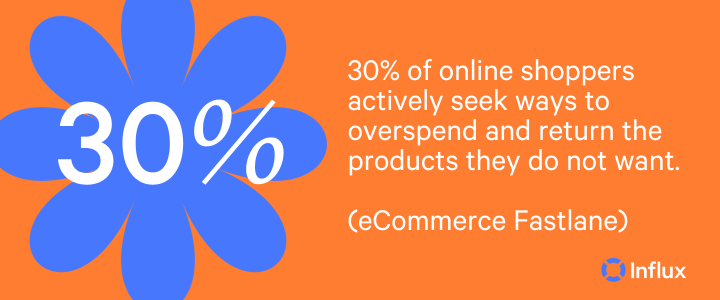 30 day return policy
Customers have 30 days to request a full refund if they are not satisfied with the product or service.
"Hi [Customer Name], thank you for getting in touch regarding your refund request. We appreciate your business, and we're here to help make things right. I'm happy to inform you that we offer a full refund within a 30-day window for our products. To initiate the refund process, please provide us with your order details, and we'll get the ball rolling."
When offering a 30-day money-back guarantee policy, businesses should understand that this commitment is a powerful tool for building customer trust and confidence. Businesses should monitor and assess the effectiveness of their guarantee policy to identify areas for improvement and ensure it aligns with legal requirements and industry standards.
15 day return policy
The company allows returns and refunds within 15 days of purchase, subject to certain conditions.
"Hey [Customer Name], thanks for reaching out. Good news! We offer a full refund within a 15-day window. No hassle, no fuss. To get the process started, please provide us with your order details."
Businesses should be aware of the shorter timeframe and its implications when offering a 15-day money-back guarantee policy compared to a 30-day policy. With a 15-day policy, customers have a more limited window to assess their satisfaction and request returns, which can impact customer expectations and experiences. Therefore, it becomes even more critical to clearly communicate the policy terms, including eligible products and return conditions.
Restocking fee policy
A restocking fee is deducted from the refund amount to cover the cost of processing returns, often for electronics or high-value items.
"Hi [Customer Name], thanks for the message! We're here to help with your return. Just a heads-up, we have a restocking fee for eligible returns. It covers the costs of processing and restocking returned items. If you want to go ahead with the return, just let me know your order details, and I'll let you know how much the deduction will be."
By implementing a well-defined and customer-friendly restocking fee policy, businesses can strike a balance between accommodating returns and managing costs. The key is to provide clear information and options to customers, enhancing their overall experience.
Subscription cancellation policy
Subscriptions can be canceled at any time, and customers receive a prorated refund for the unused portion of the subscription.
"Hi [Customer Name], I understand that you'd like to cancel your subscription. We get it, needs change, and we're here to keep things simple for you. Good news: our cancellation policy means you'll get reimbursed for the remaining days in your subscription, so you only pay for what you enjoyed. I'll go ahead and cancel your subscription. In the future, if you'd like to resubscribe, let us know and we'll get you set back up. If you have any other questions, we're happy to answer them. Hope to see you again sometime!"
Understanding why the customer canceled is essential. Reach out for feedback or conduct surveys to pinpoint the specific issues or concerns that led to the cancellation. Consider offering incentives, such as discounts, special promotions, or extended trial periods, to entice former customers back.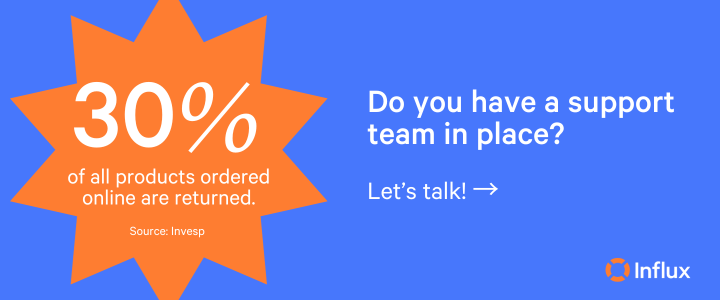 Custom or personalized items policy
No refunds or returns for items that are custom-made or personalized for the customer.
"Hey there [Customer Name], thanks for the message! We only take returns or do refunds for custom-made items if there's been a goof in the customization process. Can you share a little bit more about the problem with your order so we can work on a solution?"
Both customers and businesses should approach custom and personalized products with a clear understanding of the unique nature of these items. Customers should be diligent in reviewing their custom orders, while businesses should establish transparent policies and maintain quality standards to uphold customer trust and satisfaction.
Damaged or defective product policy
Customers can request a refund or replacement if the product arrives damaged or is found to be defective.
"Hello [Customer Name], I'm [Agent Name], part of our Customer Support team. I'm sorry to hear about the issue with our product. We offer a full refund or replacement if the product arrives damaged or defective. Can you tell me a bit more about what the problem is before I start the process?"
Businesses should specify a return window when offering a refund or replacement for damaged or defective products. Typically, the return window for damaged or defective items falls within a reasonable timeframe, such as 30 days from the date of purchase or receipt.
Shipping and handling fees policy
Refunds may or may not include shipping and handling fees, depending on the policy.
"Hey there, [Customer Name], we appreciate your recent purchase and apologize for any inconvenience. Please note that shipping and handling fees related to your order will be deducted from your refund. If you share your order number with me, I can look into how much these deductions will be."
Shipping and handling fees help the business recover some of the costs associated with processing and fulfilling an order. These costs include packaging materials, labor, and transportation expenses. It's important for businesses to strike a balance between covering their costs and providing a fair and transparent refund policy.
Extended holiday return policy
During the holiday season, some retailers extend their return windows to accommodate gift purchases. This allows recipients to return or exchange items after the holidays.
"Hi [Customer Name], my name is [Agent Name]. Thank you for reaching out to us. During the holidays, we offer an extended window for exchanges and refunds. Would you like to exchange your product or should I start the refund process?"
By planning carefully and communicating clearly, businesses can create a win-win situation for themselves and their customers during the festive season. Decide on the specific dates for your extended holiday returns policy well in advance, considering when holiday shopping typically begins and ends. Consider which items you might want to exclude from your returns policy.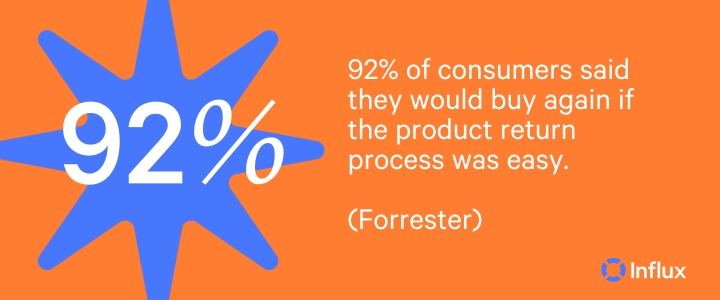 Manufacturer's warranty
For certain products like electronics or appliances, the manufacturer's warranty may apply. In this case, returns or repairs are typically handled directly through the manufacturer.
"Hello, [Customer Name], thank you for reaching out to us. We understand that you have questions regarding the manufacturer's warranty. Please share the product name/model so I'm better equipped to assist you."
Offering a manufacturer's warranty can be a valuable marketing tool and a way to build trust with customers. However, it's essential to carefully consider and clearly communicate the terms and conditions of your warranty to avoid misunderstandings and potential legal issues. Consult with legal counsel or experts in warranty law to ensure compliance with applicable regulations and to create a warranty policy that aligns with your business goals.
Return policy for clearance or sale items
Clearance or sale items may have different return and refund terms compared to regular-priced products. Businesses may limit or exclude returns on discounted items.
"Hi [Customer Name], I understand your request and want to provide you with the best assistance possible. However, I would like to bring to your attention that our return policy does have some limitations, particularly on discounted items. Give me just a moment to look into some solutions for you."
Drafting a return policy for clearance items can be tricky because of varied expectations, the complexity of clearance sales, inventory turnover, and profit margins. Striking the right balance between customer satisfaction and business sustainability is key to successfully managing clearance item returns.
Customer support, done
Businesses need a strong and knowledgeable customer support team to complement their returns and refunds policy effectively. Influx works as an added layer of support for your existing team with experienced agents trained in your brand voice. With all management included, see how Influx can help build high-performance customer support teams operating globally, 24/7.
Read our case studies to see how brands work with Influx to deliver high-quality support that meets business and customer needs. Get a customer support quote now!