I'm excited to announce that we're now offering support as a service for ThemeForest comments as part of our 24/7 WordPress support service.
This means we can now answer customer questions and pre-sales questions directly on your author page on ThemeForest.
Here's what our responses look like: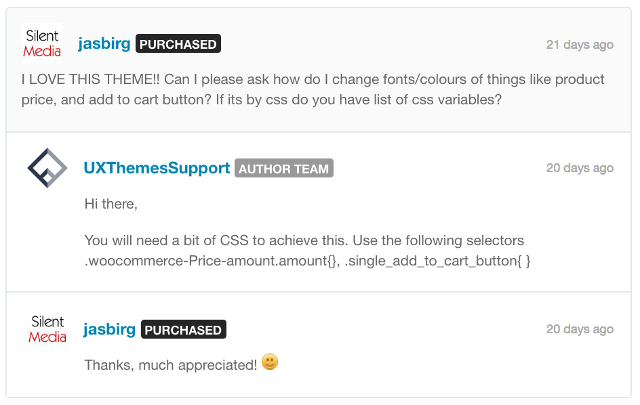 We've been testing this process with one of our clients — UX Themes — for the last three weeks. As you can see, we show up as 'Author Team'.
As an author, you can also respond as you like or use your existing support team to answer. We only act as an extension of your already existing support team, and you only pay when we respond to a question.
How we answer (public) questions differently
If we know the answer, we answer it. If the question requires some custom digging, we let the customer know that they can submit a ticket to answer the question. Here's an example of where we ask for someone to submit a ticket: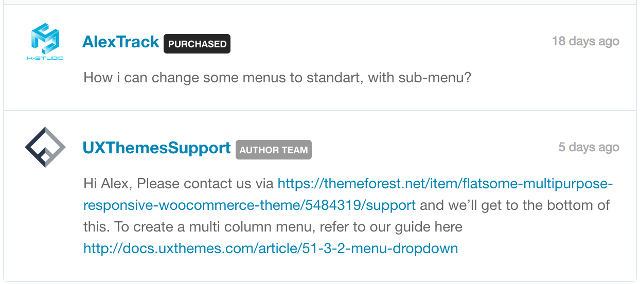 You can find live examples of our responses on the public comments page here.
How to get started
If you're already an Influx client, let your account manager know, and they'll set it up for you.
If you're not already an Influx client, you can create an account here then let us know here that you're ready to get started. Every month, we charge clients based on total responses.
Here's our pricing calculator.
How does reporting work
Once our agents start answering comments on ThemeForest, you'll be able to track total responses in your Influx dashboard.
Does this service work with CodeCanyon too?
Sure does! We support just as many plugins as themes with our WordPress support service.
That's it
Hope you find this new service helpful! If you have any feedback, let us know at hello@influx.com