The ability for customers to get help in a timely and consistent manner is important to the success of any business. Thanks to help desk software, you can create a seamless customer experience that increases your team's productivity and efficiency. No matter the size of your business, you can benefit from help desk solutions. In this blog we'll explain what a help desk is, why it is important, how you can find the right help desk for you, and more!
Jump ahead to the section that benefits you, or read through the entire article to become an expert on help desk software!
Why successful businesses use a help desk software
Four types of help desks and their functions
Macro setting for your help desk
A guide to choosing the right help desk software
The benefits of outsourcing help desk support
What is a help desk?
A help desk is a tool that simplifies customer communication and allows businesses to support consumers faster and more efficiently. Help desks are the first point of contact for customers who need assistance, which naturally makes organizations more customer-centric. Storing customer information in a database that is searchable, monitors interactions, and automates the resolution process using a ticketing system allows for streamlined customer support.
Help desk is known by other names.
Customer support center
IT solutions center
IT response center
Resource center
Technical support center
Computer support center
Information center
A company'shelp desk is managed by a group of service desk experts who are trained to solve problems and respond to external and internal requests. These requests are frequently made using a ticketing software which enables customers to submit inquiries online and for agents to resolve the tickets in a timely manner. Ultimately, help desk software is a tool used to deliver the best customer service experience possible.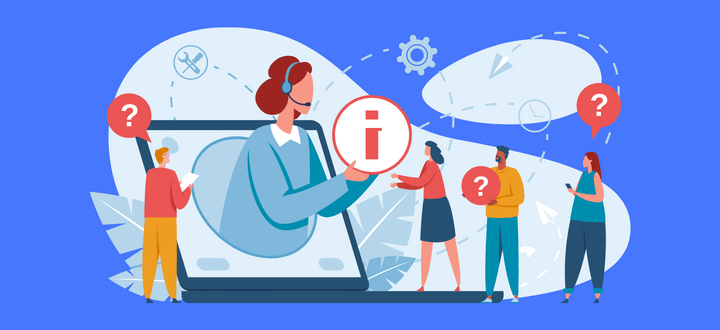 Why successful businesses use a help desk software
There are many advantages that help desk solutions can provide your team and every kind of business can reap these benefits.
1. Increase organizational efficiency
Help desks are designed to automate the ticket resolution process so that a higher volume of tickets can be handled immediately. Optimizing the process so that high-priority requests are handled first keeps urgent tickets at the forefront, providing time-sensitive solutions to crucial problems.
2. Resolve issues
Help desk software organizes customer communication to quickly track issues and gain insights into frequent problems. Not all issues are related, but being able to easily notice patterns can reveal an underlying problem that could be the cause. Without a help desk to flag complications, these issues may fall under the radar, leading to frustrated customers and a loss of business.
3. Improve user experience and customer satisfaction
Help desk software allows you to communicate with customers on the platform of their choice, including SMS, social media, or live chat conversations. When customers need assistance, they expect a quick and accurate solution. Help desks create a ticket for each customer interaction and simplifies communication with detailed records of all requests.
4. Keep track of customer service metrics
The best help desk metrics to record are ticket volume, ticket volume by channel, first response time, first contact resolution rate, tickets solved, backlog, agent satisfaction, and customer satisfaction. Reviewing metrics is the only way to accurately judge whether or not your team is succeeding and improving compared to previous periods. It also reveals which areas your team might be struggling with or points of strength.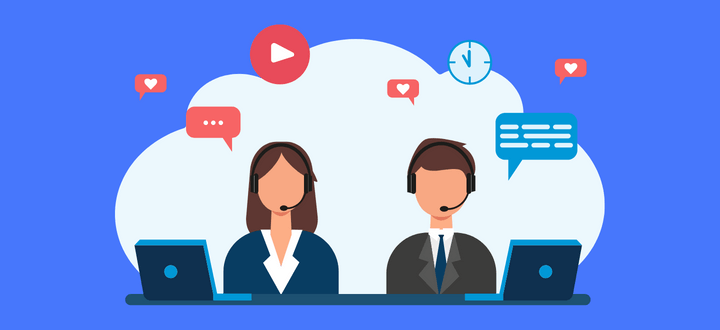 Four types of help desks and their functions
Depending on the needs of your business, there are different help desks to choose from with different functionalities.
1. Web or cloud-based help desk
A cloud-based help desk is a SaaS (software-as-a-service) application that is hosted entirely online. This allows organizations to access resources wherever they are and still be able to respond to customer queries.
2. Self-hosted help desk (also known as on-premises help desk)
Self-hosted help desk is a licensed proprietary software purchased by a business. After purchasing the software license, companies own and host this help desk on their own servers.
3. Enterprise help desk
This help desk is designed to be both customer and employee-focused. They are typically used by larger organizations and include advanced features.
4. Open-source help desk
Open-source help desk is software that offers a ticket management system. Built on an open-source technology, it offers a solution for efficient customer support.
Large organizations build out their help desk function in ways that blend these distinct forms of help desk for improved CX. This makes it possible for customers to access help features through their preferred communication channels.
Choosing a help desk is deciding how to enable your support staff to assist consumers properly at the appropriate time. All of this is crucial to the omnichannel strategy for customer interaction, which strives to enhance customer satisfaction, optimize services, and establish a solid reputation that will draw both new talent and repeat business.
Macro setting for your help desk
Macros are also known as canned responses, scripts, or templates. Simply put, a macro is a pre-written message to send out when a matching help desk ticket comes in from a customer. When an agent receives a support ticket, they can respond with a matching macro to streamline the process. Having a macro already available instead of having to re-type out the same message over and over again optimizes workflow and increases productivity. It also keeps agents from having to repeat monotonous steps.
For more on this, check out our other article;macro setting and hacks for your help desk.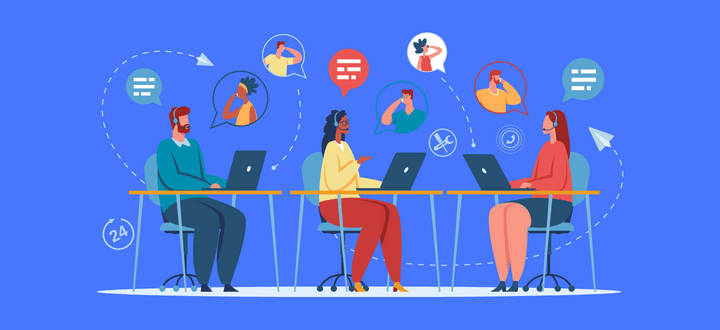 A guide to choosing the right help desk software
Before deciding which help desk software is the best for your business and your team, there are a few things to consider. First, you'll want to decide on your requirements. Analyze your current support process and note areas of difficulty.
Help desk software offers a number of different features and knowing what you need will make it simpler to find the right solution for your agents and customers. Once your requirements are set in stone, ask the following questions and create a list of software that satisfies them.
Is the software user-friendly and easy to set up?
What type of customer service experience do you want to provide?
Which productivity and workflow features are most useful for your team?
Does the software offer the reporting metrics your business needs?
Can the software integrate with your other software?
Does the software comply with data security requirements?
Is it reliable with positive reviews?
Does it match your business model?
Which software offers the best value for your budget?
Does the software offer a trial period?
Focusing on the help desk solution that will fulfill your team's must-have needs is important for long-term success, so there's no need to rush. Take your time to find the right solution!
Key features to look for
Help desk features come in various forms, though many of them share these three basic features: contact channels, ticket management, and analytics. In your search for the right help desk, here are some other important features that you may want to focus on.
Mobile support
Customer rating
Well-designed interface
Knowledge base or self-service
Ticketing management
Ticket escalation
Automation
Customer satisfaction survey
Customer relationship management
The more you can get from your help desk software, the easier it is to keep all information, reporting, and communication in one place rather than having multiple data locations that can increase difficulty for your support team and make things convoluted.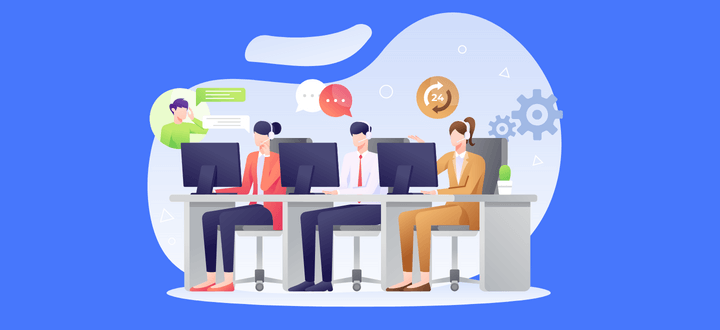 The best help desk solutions
Gorgias
Gorgias is an all-in-one help desk platform created specifically for eCommerce stores. The machine-learning software creates a connected customer journey that aggregates interactions across all channels, including email, chat, social, voice, and SMS- and turns these interactions into individual customer timelines. Learn more about if Gorgias is right for you!
Zendesk
Zendesk is an omnichannel customer support platform that connects your team with customers via phone, chat, email, social media, and more. The central hub stores all customer interactions in one place to keep track of support requests, inquiries, and customer service metrics. Discover the benefits Zendesk can offer you!
Help Scout
Help Scout is a software-as-a-service (SaaS) solution that combines customer support software and a CRM platform in one central location. Because Help Scout is a SaaS platform, no hardware investments are required, just internet-connected devices with modern browsers. Find out if Help Scout is your solution!
Help desk support
Help desk support entails accepting tickets, resolving customer problems, and performing other customer service duties. Various daily tasks of a help desk specialist include…
Providing assistance
Staying up-to-date regarding changes within the company
Researching and being familiar with the knowledge base
Logging call and email activity
Taking on initial telephone or email inquiries
Managing help desk software or the ticket system
Troubleshooting and managing simple software, hardware, or network issues
Delegating complex problems to second-level support
Instead of having to organize emails, chat conversations, and social media DMs, agents can save time and energy by usinghelp desk support automation. When a ticket pops up, it will automatically be assigned to the next available rep who can assist with the problem before closing out the ticket.
Help desk software is beneficial because it facilitates customer intake, assembles all customer communication in one place, organizes and routes tickets, and compiles data into easily digestible reports.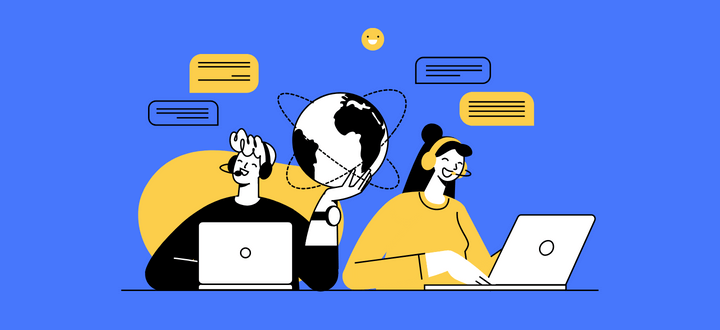 The benefits of outsourcing help desk support
Help desk can be as simple as a phone number and a single individual who can address client issues immediately. The caveat is that this method does not scale well. More advanced help desks include support teams of customer service specialists who can help with anything from ticket response and management to escalation or knowledge base.
The benefits of outsourcing help desk support include:
Solving management challenges
Expanded access to expertise
Preparation for updates and upgrades
Support during non-traditional business hours
Free up time that allows you to focus on your business mission
Higher customer satisfaction scores
Reduced costs
Flexibility
It is quite common to outsource the help desk function to support specialists. For businesses that need additional resources and are looking to access enterprise-grade support services on a budget, outsourcing help desk support is a highly recommended solution.
Help desk integrations
Influx provides an extra layer of support for your existing team across any channel. Our platform connects to all major help desks and chat platforms. We'll help you flex and scale your business as needed with full integration into your existing workflow, team structure, and help desk. Viewhelp desk integrations to learn more!