The perfect ecommerce return policy strikes a delicate balance between customer centricity and strong business economics. You want to delight your customers, but you also want to make sure you're running your business sustainably.
When done thoughtfully, your return policy creates confidence, trust, and a sense of security. Ultimately, your customer retention rate increases.
Lastly, your refund policy is the rock of your company's customer support organization. A well-crafted refund policy makes it easy for your support agents to resolve issues quickly.
Here are the 7 examples of return policies used by highly-successful brands that know own their niche.
Jump ahead to your preferred return policy examples:
The 100% Customer Focused Refund Policy - Manly Bands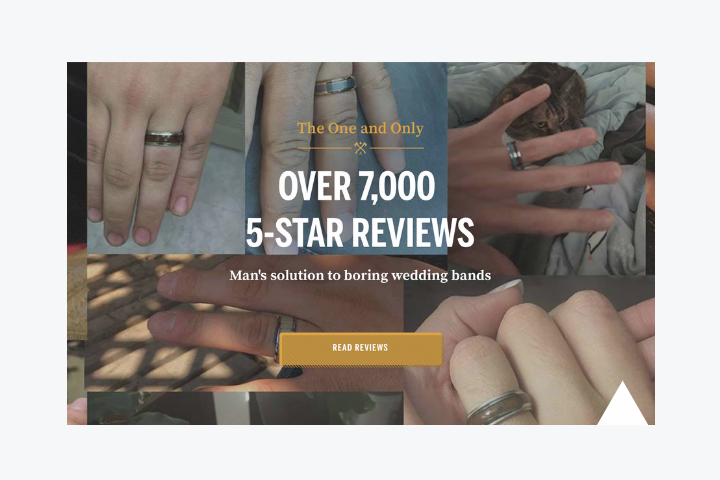 Yes, you can surprise your customers by going the extra mile to make them happy with your return policy alone! We look no further than Manly Bands, which disrupted a traditional retail segment of the wedding industry by crafting personalized wedding rings for men with a hassle-free buying process.
Alongside a dedicated and fast 24/7 support team (provided by Influx), Manly Bands offers an exemplary returns policy with an extremely flexible 30-day free return policy, written with empathy through a simple phrase that conveys so much - "We have been there".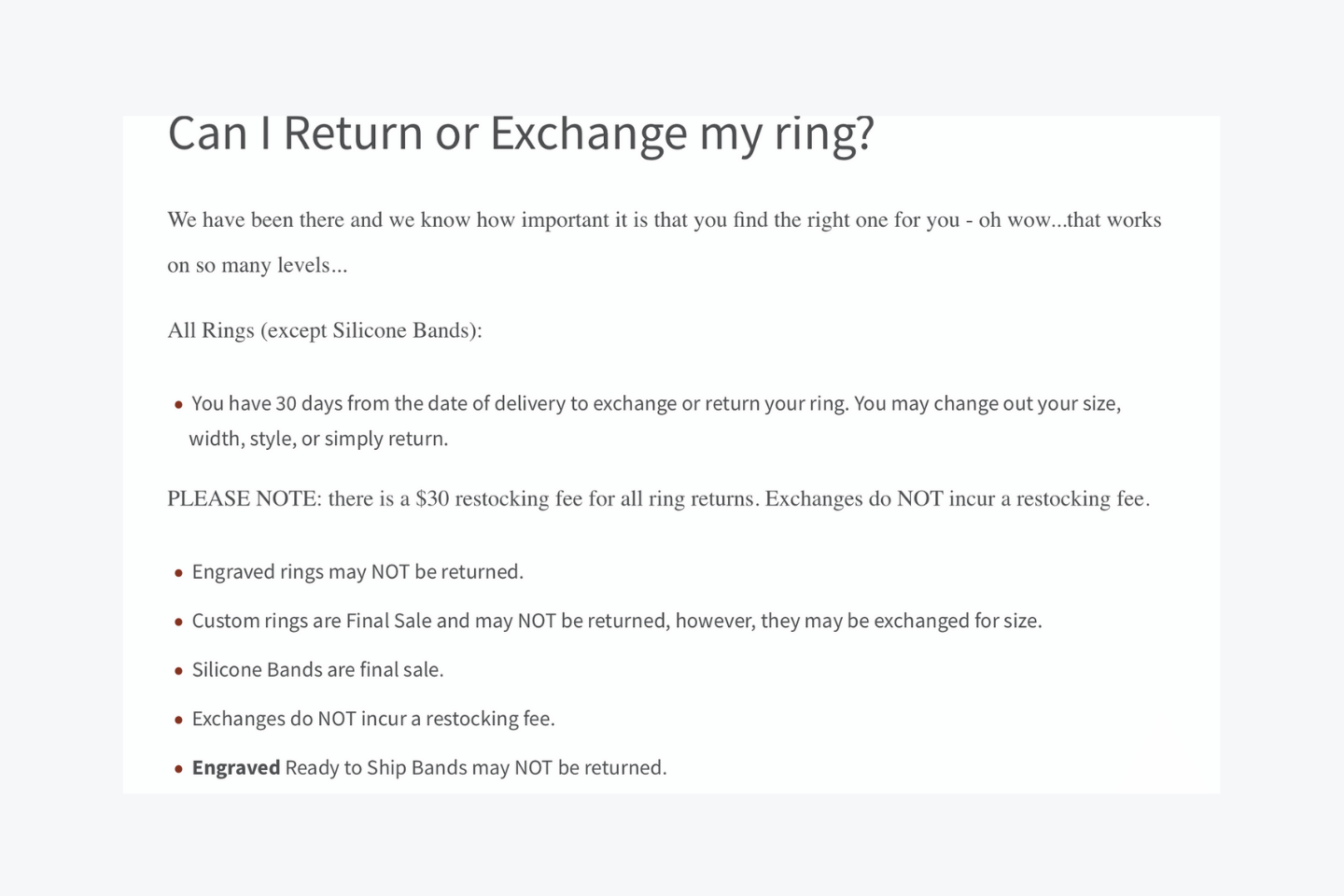 Manly Bands' return policy prioritizes customers' needs.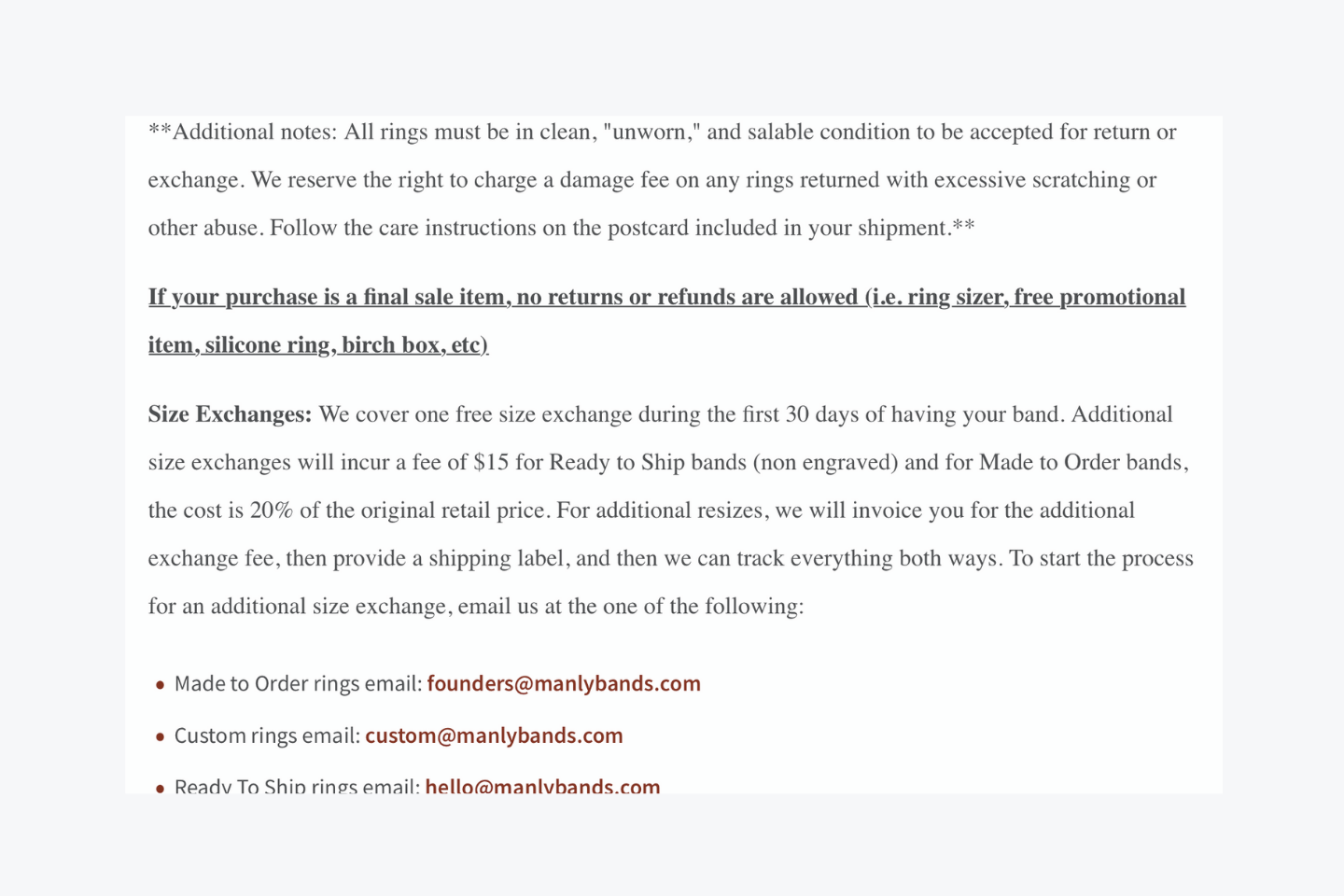 Why they structured their refund policy like this
Co-founder Michelle explains why did this in one of our support leadership interviews:
"When planning a wedding, there are so many things in the air at the same time. You don't always think to get your stuff sorted out in a normal amount of time. So, we extended our exchange policy to fit those needs that kept arriving."
"Now, you can return for a refund within 30 days. After 30 days, we ask for a small fee to cover the shipping on exchanges and we will grant a "late exchange" up to 90 days. I don't know of any big chain jewelry stores that will do that."
And sometimes, it's just easier to bear the return shipping costs yourself, as Michelle explains, "In the beginning we had customers paying for shipping on their returns, we found they didn't always keep the tracking number (even though we asked them to). This created all kinds of issues. It's better to have control over the whole process by paying for the exchange shipping. I'll pay $3 just to know where the package is when the customer asks."
The Sweet and Succinct Policy Template - Dog Quality
Dog Quality is a Canadian-based company selling specialized products focusing on improving older dogs' quality of life. Little wonder that the company's return policy is written with equal simplicity and dignity to provide customers with care and confidence in their purchases of dog strollers, diapers, pads, socks, ramps, and accessories.
Their return policy gladly accepts all returns with full refunds on unused merchandise within 30 days minus the shipping costs. It also encourages customers to try to resolve problems first, as a means for them to avoid what could be a waste of spending on shipping costs, as some items are large.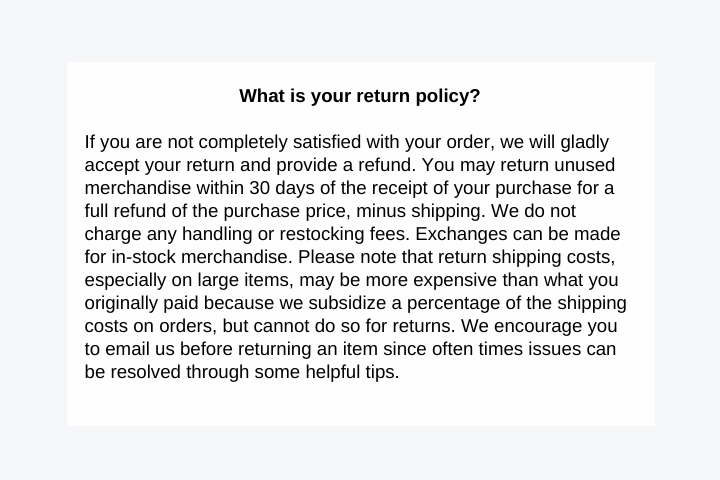 Not all return policy templates need to have a lot of words as long as they are clearly presented in simple English instead of scary "legal-ese" language.
A Return Policy That Gives 10% Extra Back To Customers - Olli Ella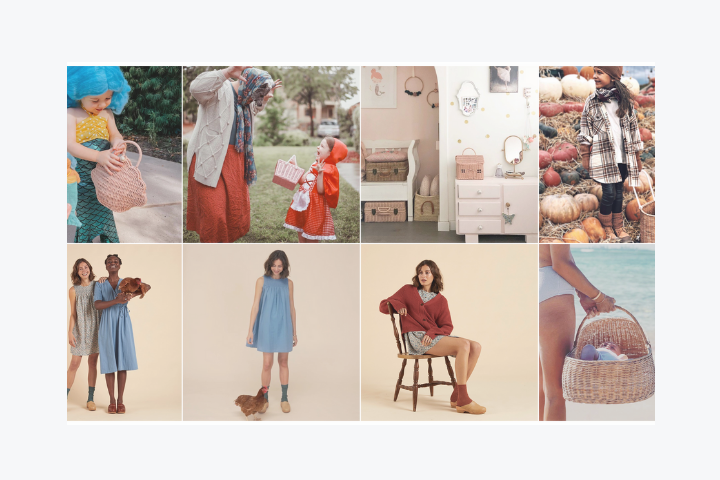 Olli Ella, makers of sustainably sourced homewares, children's toys, and organic cotton clothes and baby bedding, create happiness even to customers who want to make a return.
The Byron Bay, Australia-based company offers customers full returns with an additional 10% of the purchase price if they choose to convert their returns into store credit. This is a brilliant way for the brand to show their care for customers even if they changed their minds after a purchase.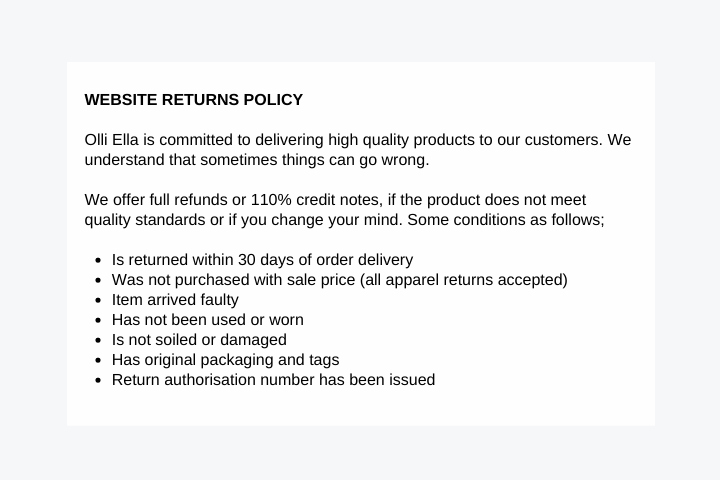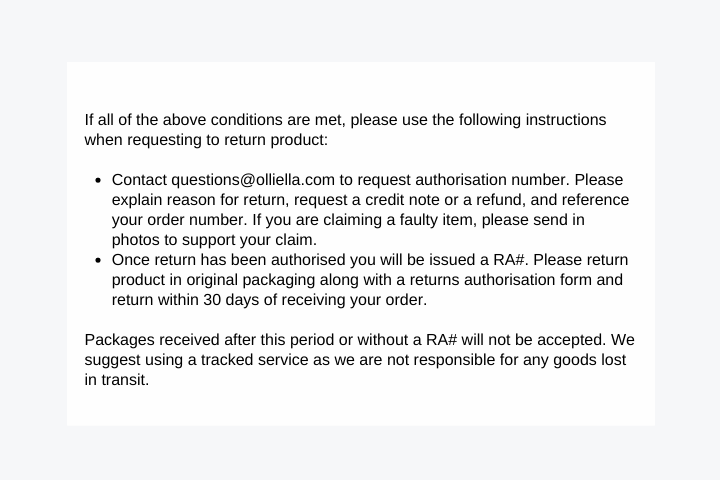 With 30-Day Returns on all items and 110% credit as an alternative to refunds, Olli Ella's return policy reaffirms its commitment to customer care.
A Return Policy That Speaks Your Brand Language and Wows - Koala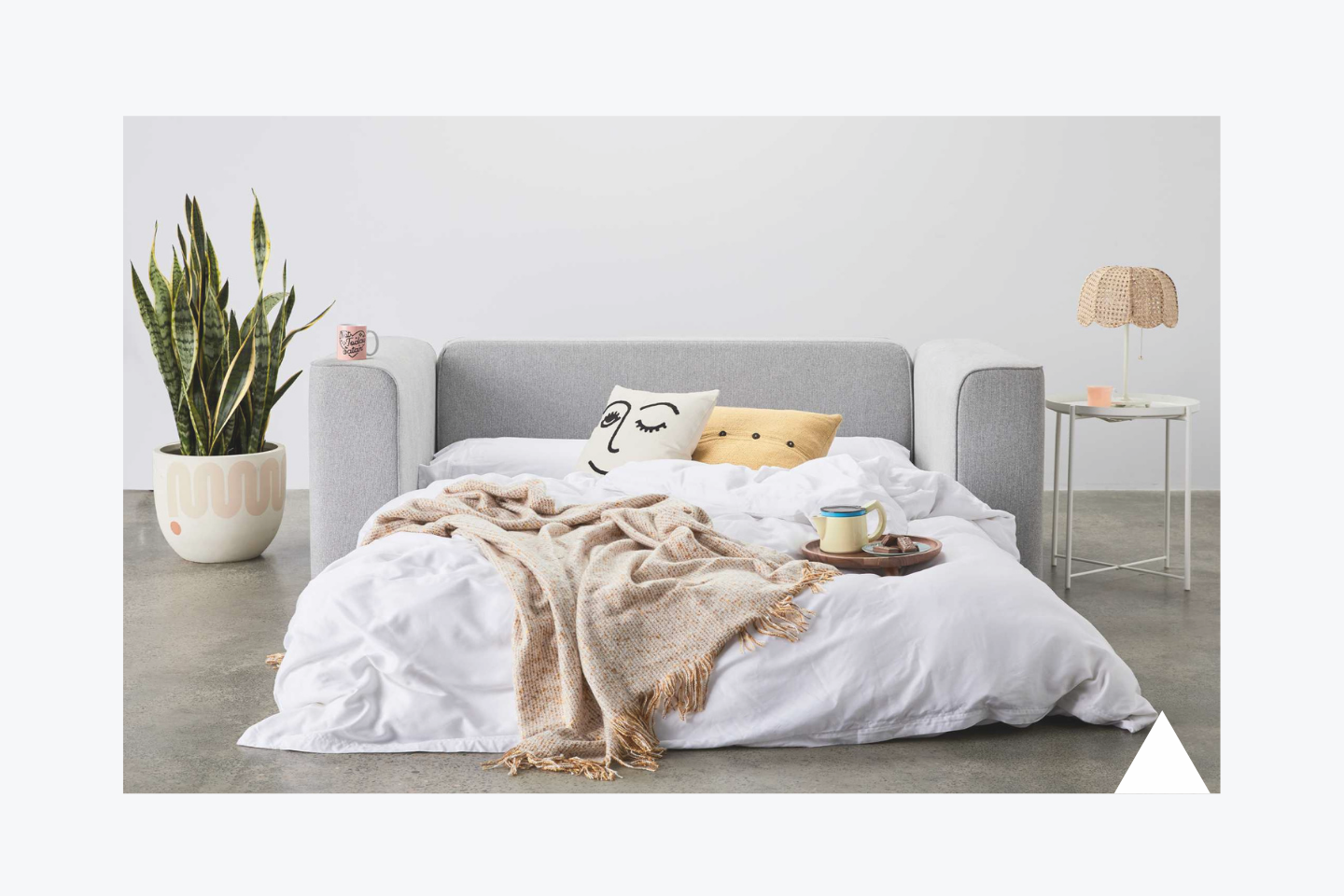 A sterling example of customer service is from Australian mattress retailer Koala, with over 14,000 five-star reviews left by very happy customers.
Ben Cadanel, Koala customer service manager, explains that customer service is at the core of the company from pre-sales to post-sales with chat support until 10pm simply because their products are usually delivered in the evenings.
"We're well-known for 4-hour delivery, a customer-friendly 120-day trial, our wine-glass test, and adopting a koala for each mattress sold," he says.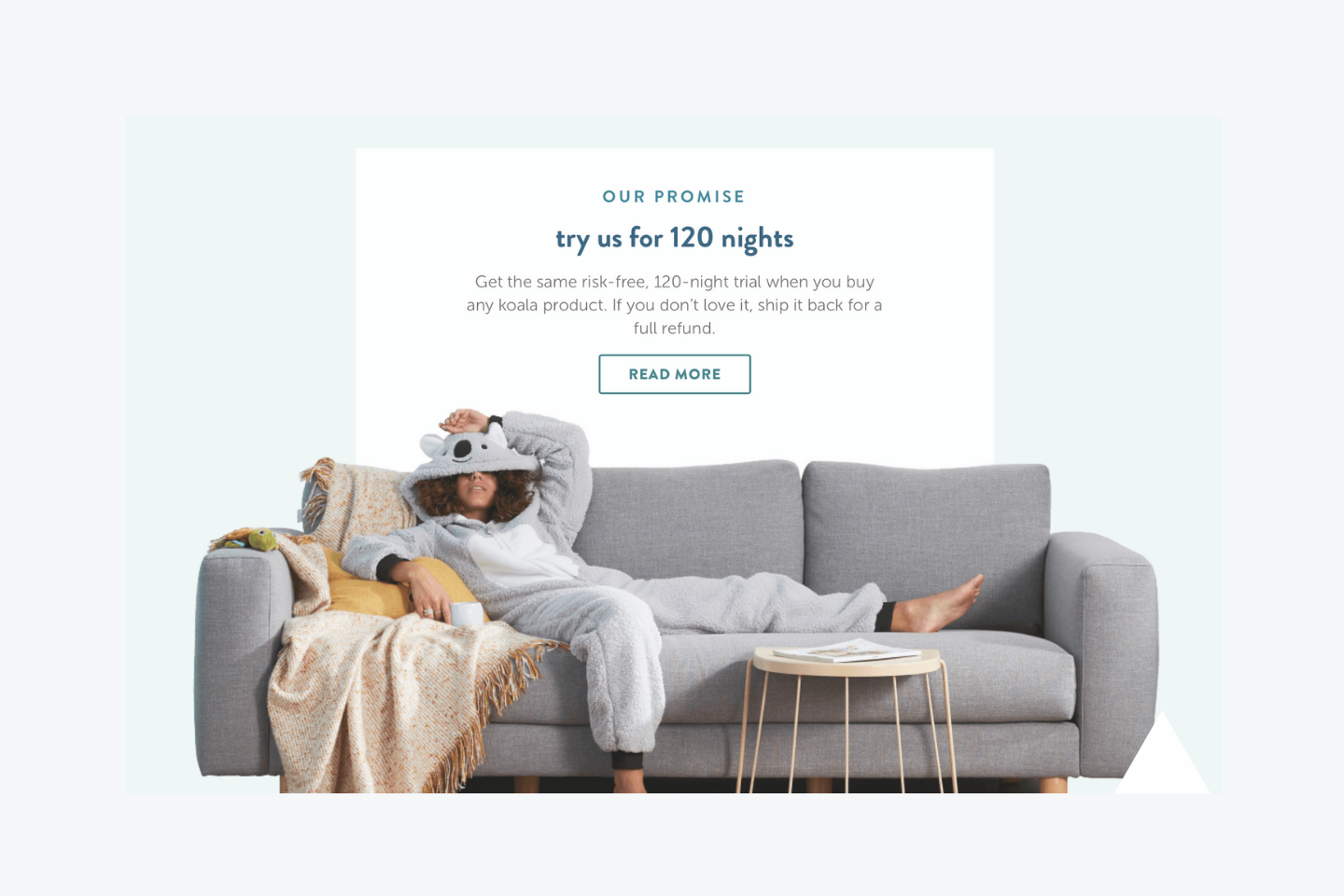 How irresistible can this return policy be with its focus on customer satisfaction?
Koala's extraordinary customer service extends to its refund policy with an outstanding 120-day period that delights customers and creates a culture of confidence and mutual trust. The policy for return and exchange is friendly, fun, approachable, and speaks with Koala's customer-centered outlook presented in an easy Q&A format: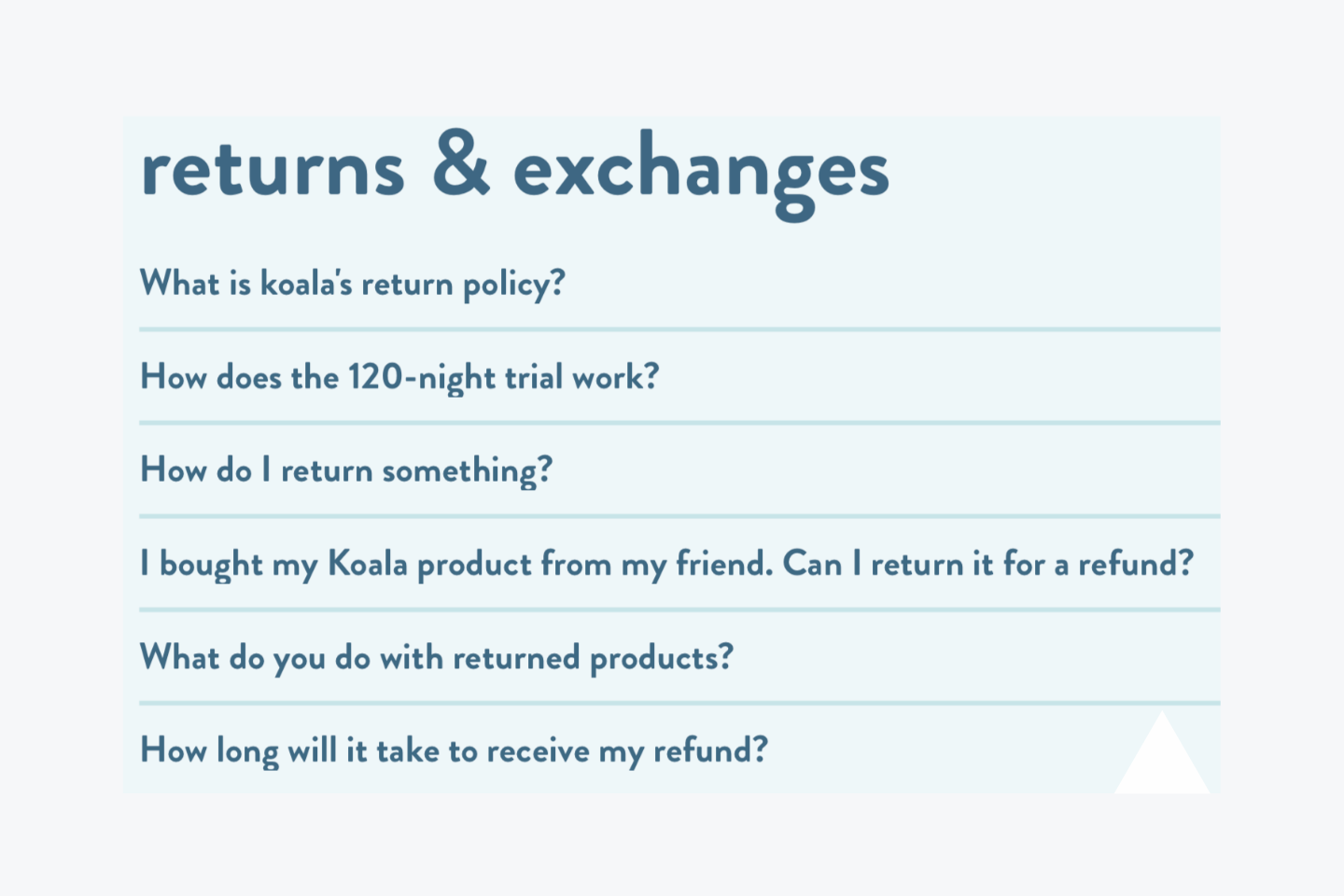 Every concern on returns is answered in Koala's detailed FAQs.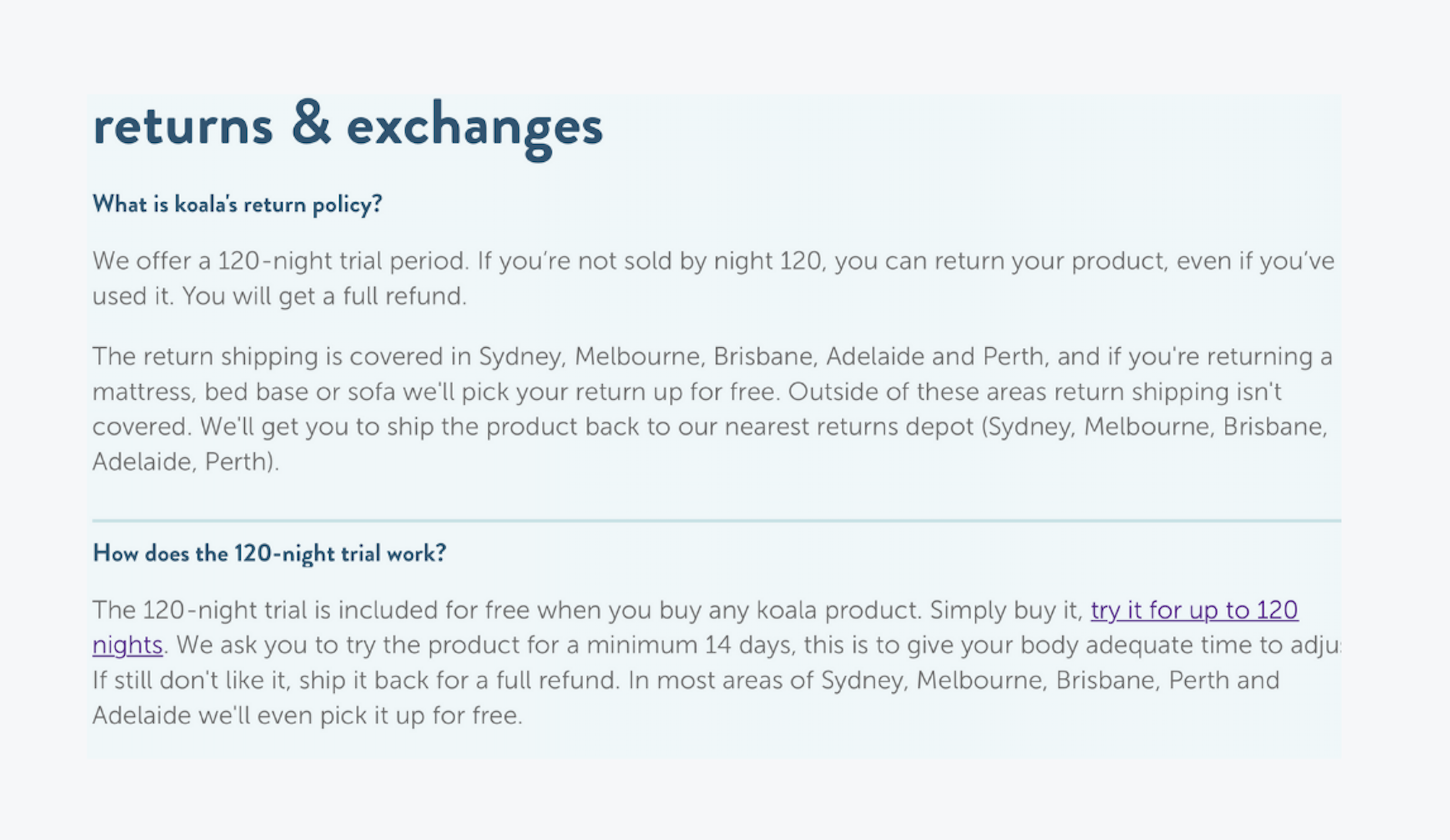 Koala'sreturn policy reflects a retailer that is customer-centric and confident of its high quality product.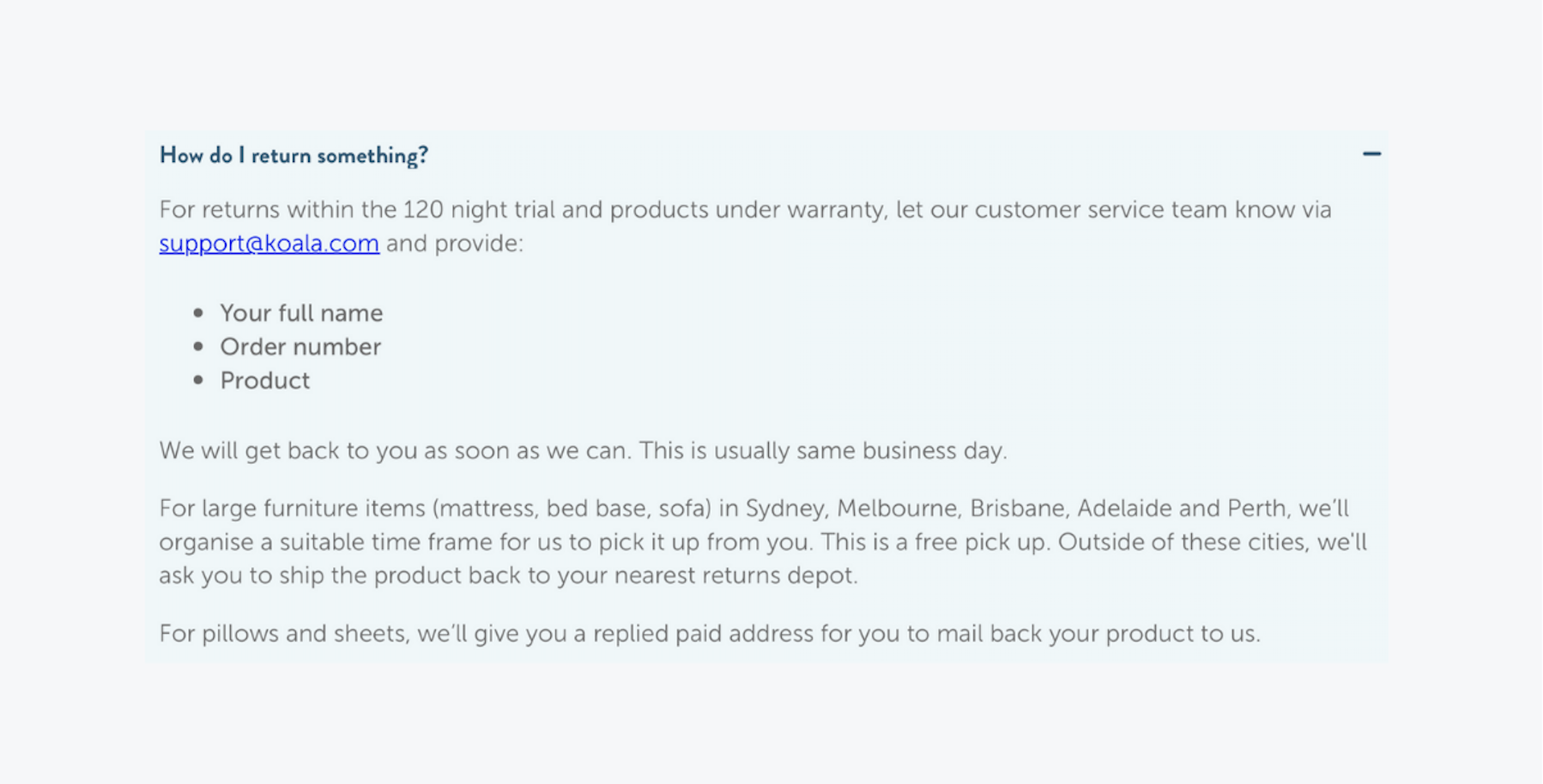 This exemplary return policy makes it as easy as possible for customers.
A Refund Policy With Clear Definitions and Parameters - Ruggable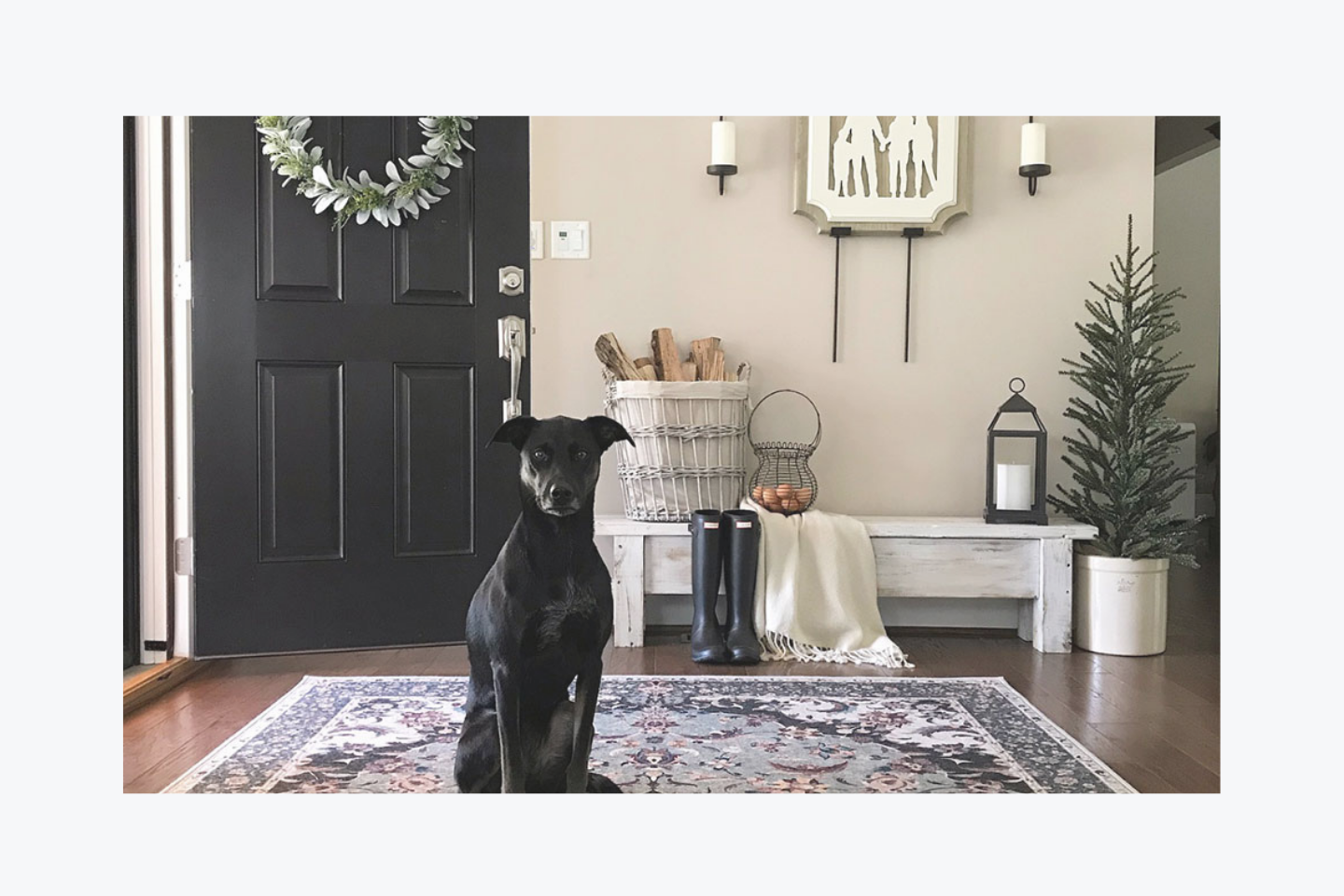 Ruggable dedicates an entire section on its website to give customers confidence in the quality they can expect from its patented washable rugs. Its return policy protects both parties by giving consumers the confidence to change their minds, and spells out what can qualify for a full refund.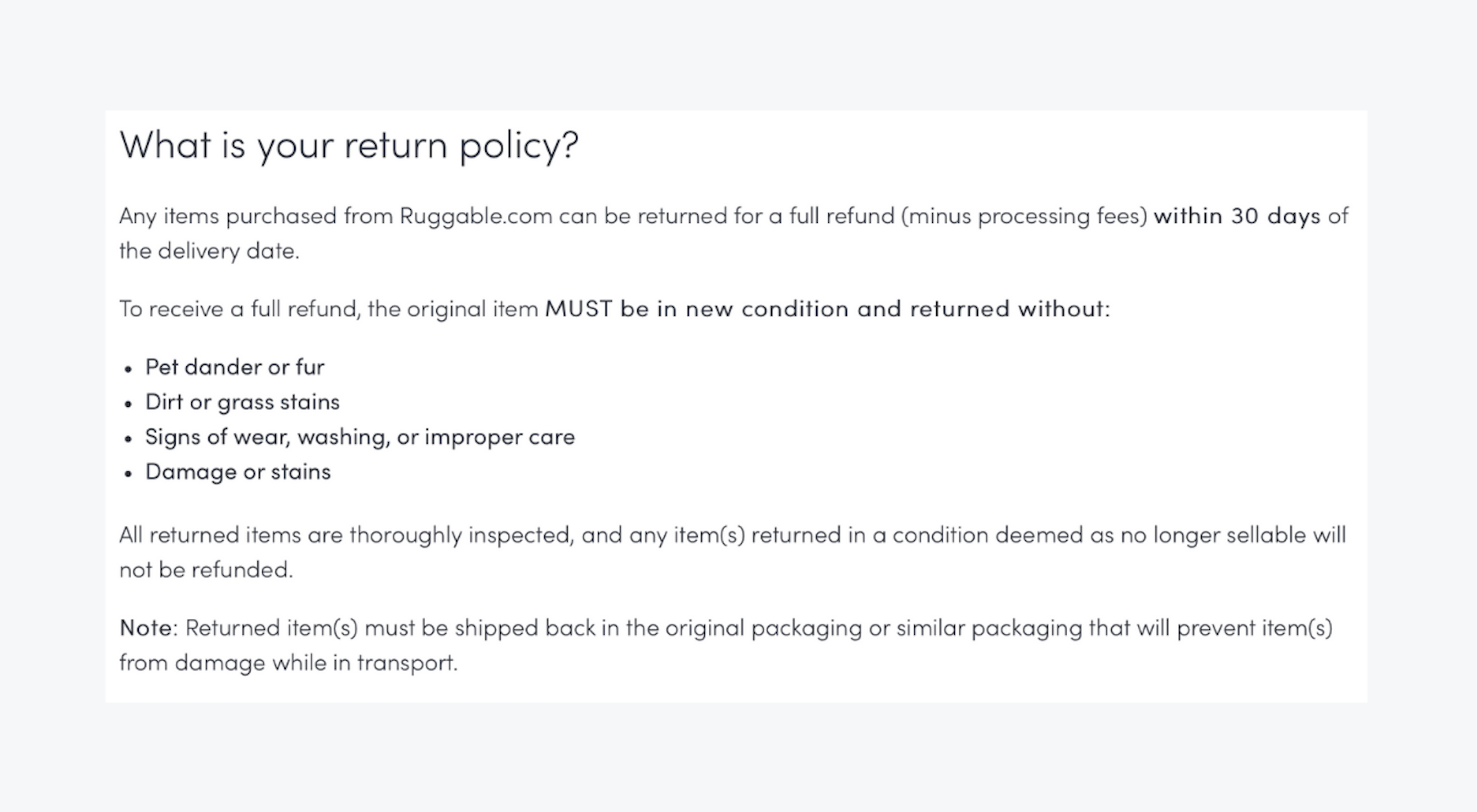 Conditions are laid out in Ruggable's return policy clearly.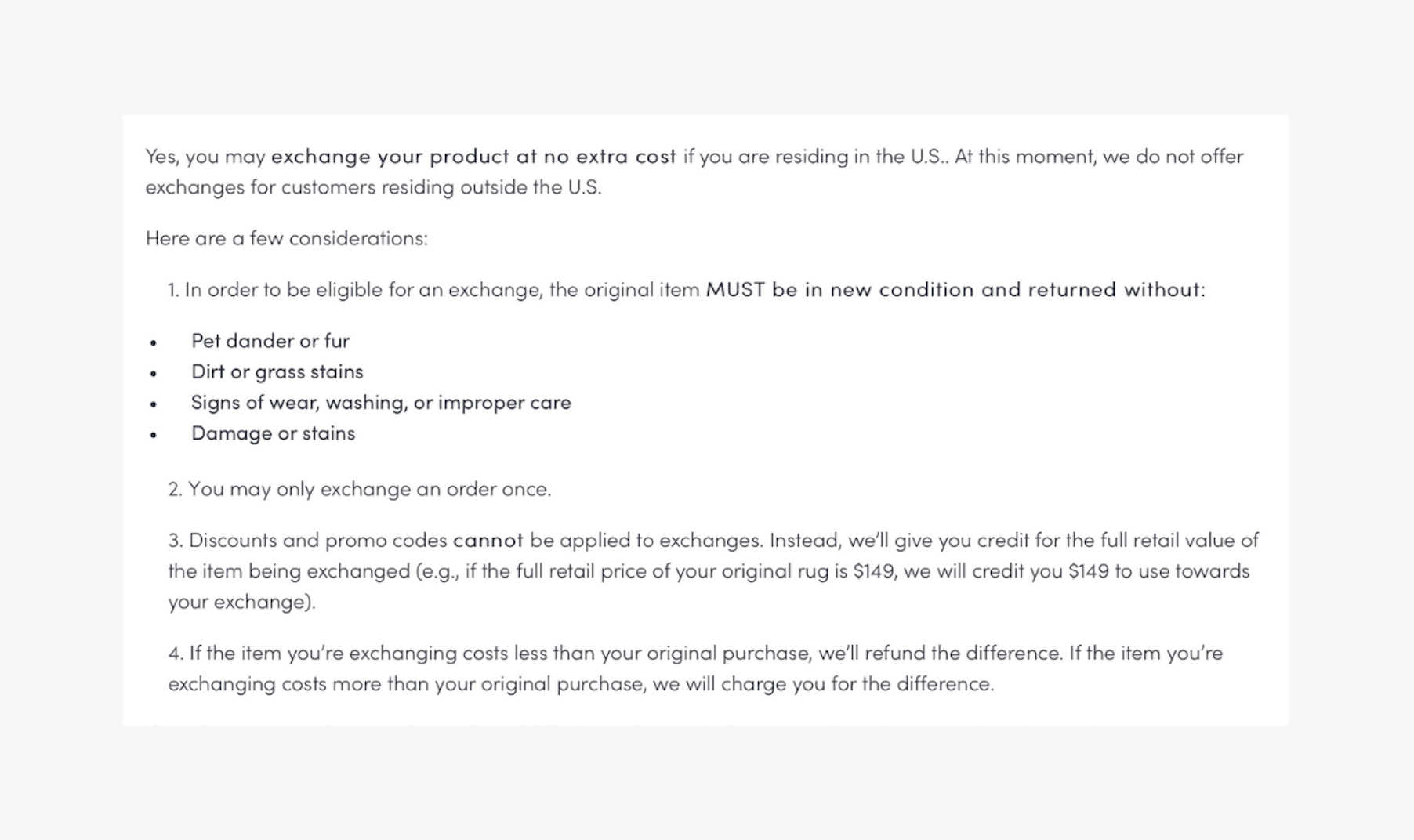 The return policy includes exchanges, shipping, taxes, and returns including discounts and promo codes.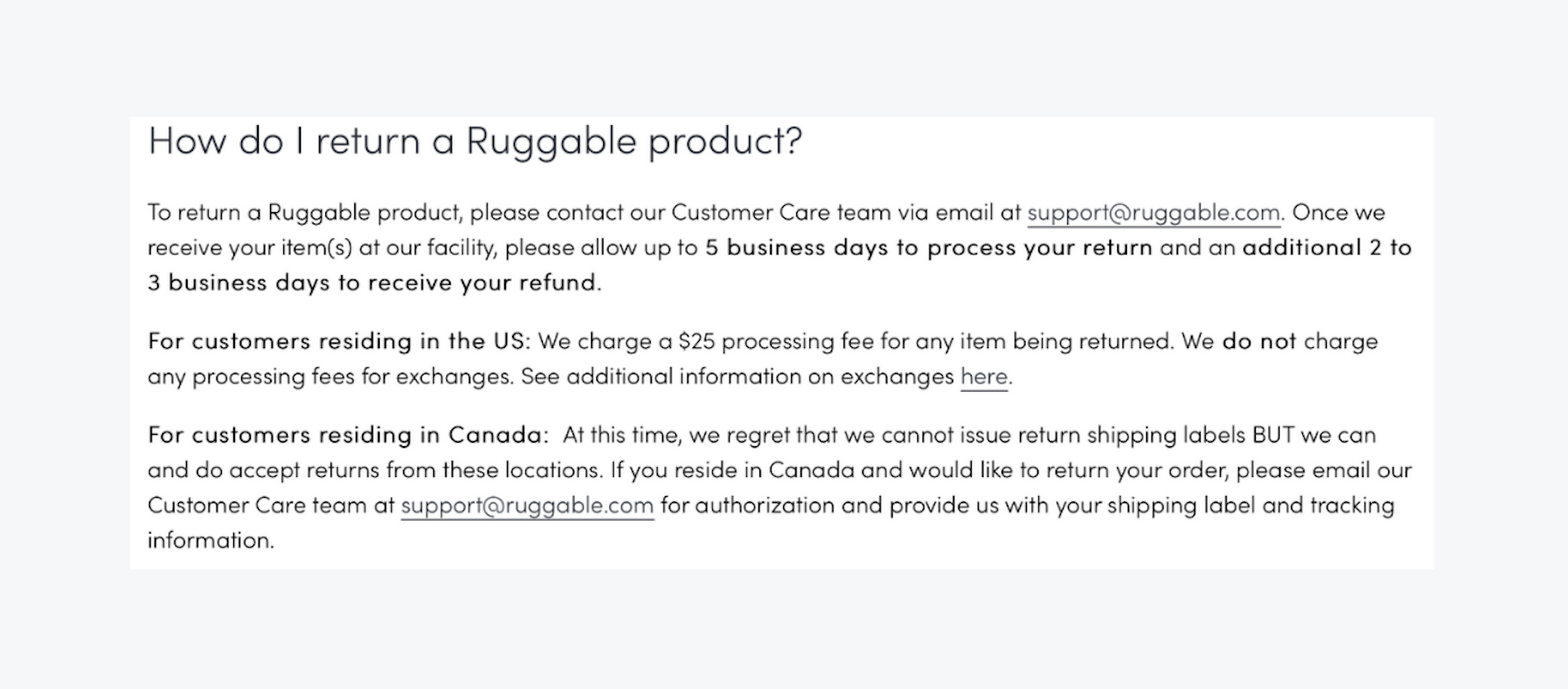 Customer expectations are managed with clear directions, fees, and time required.
The Return Policy For Non-Refundable Consumables - Manly Man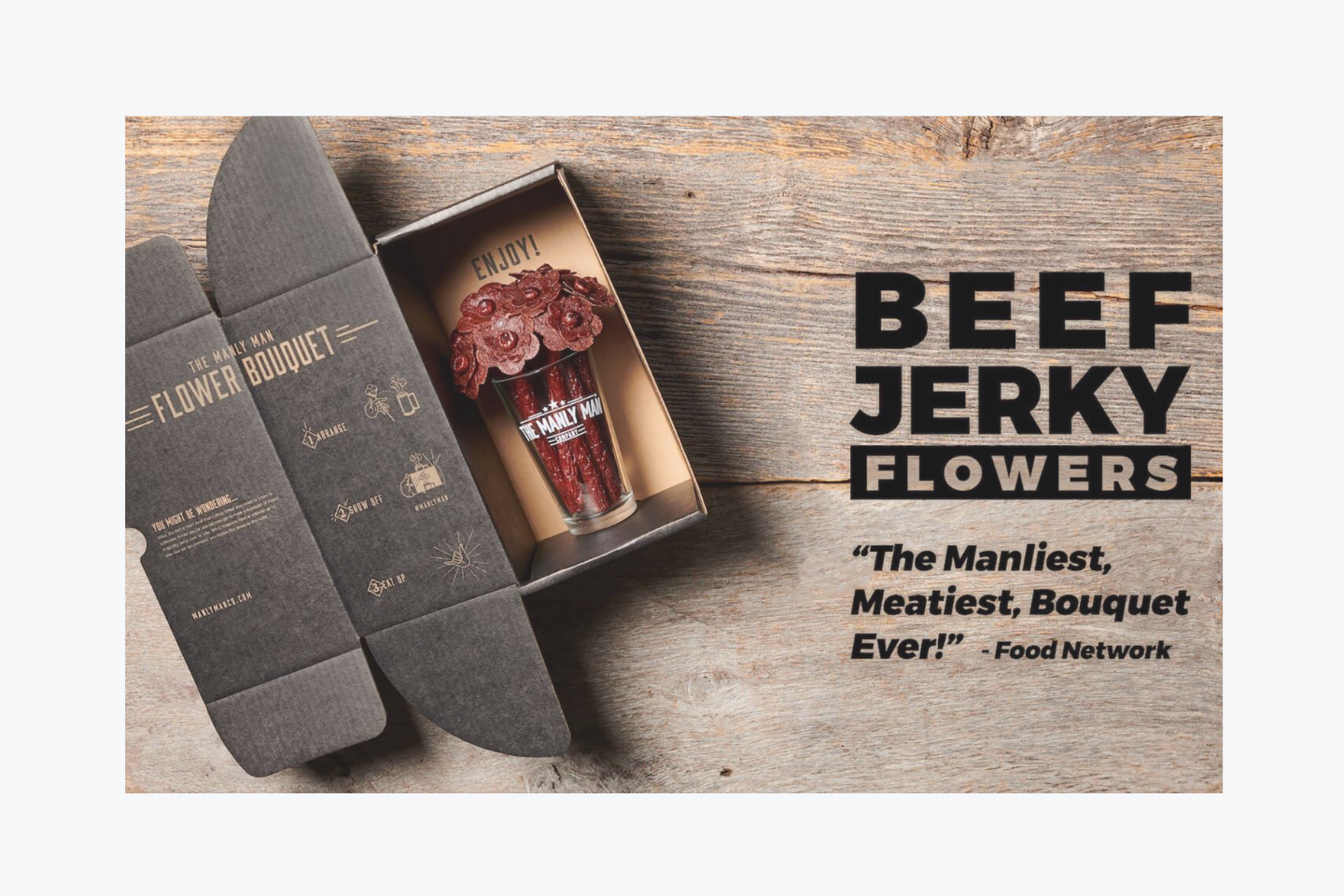 Delightful bouquets of beef jerky fromManlyman.com
Now, what happens if you are selling items that absolutely cannot be returned for hygienic or safety standards such as food and beverages? Just word it in your return policy and ensure that consumers find it easily.
The Manly Man Company offering beef jerky flowers served in beer mugs for men does this in its easy-to-find FAQ with a return policy that protects the company, customers, and potential customers: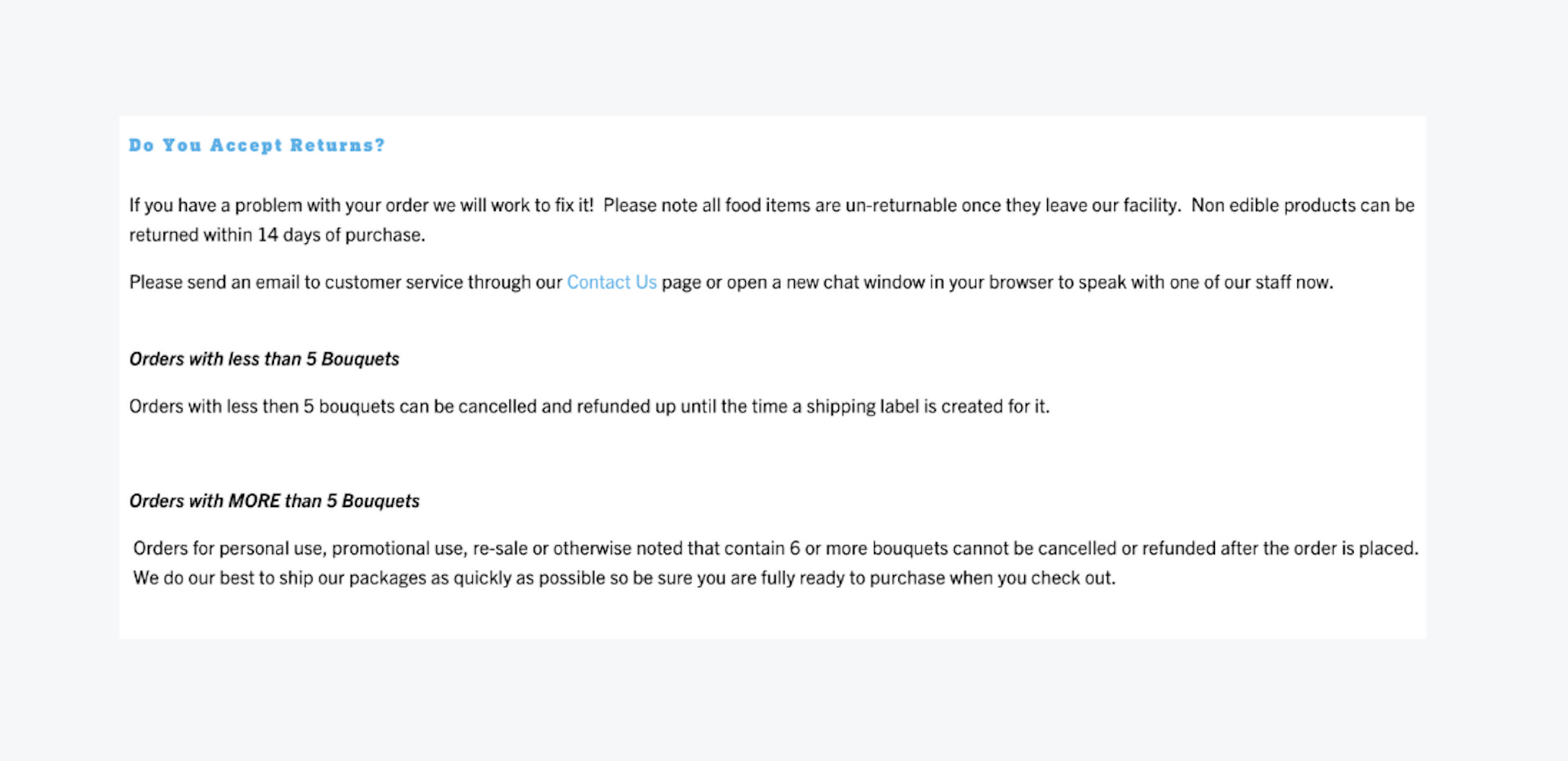 The terms are clearly and politely worded.
A Return Policy That's Cool and Ticks All the Right Boxes - Blenders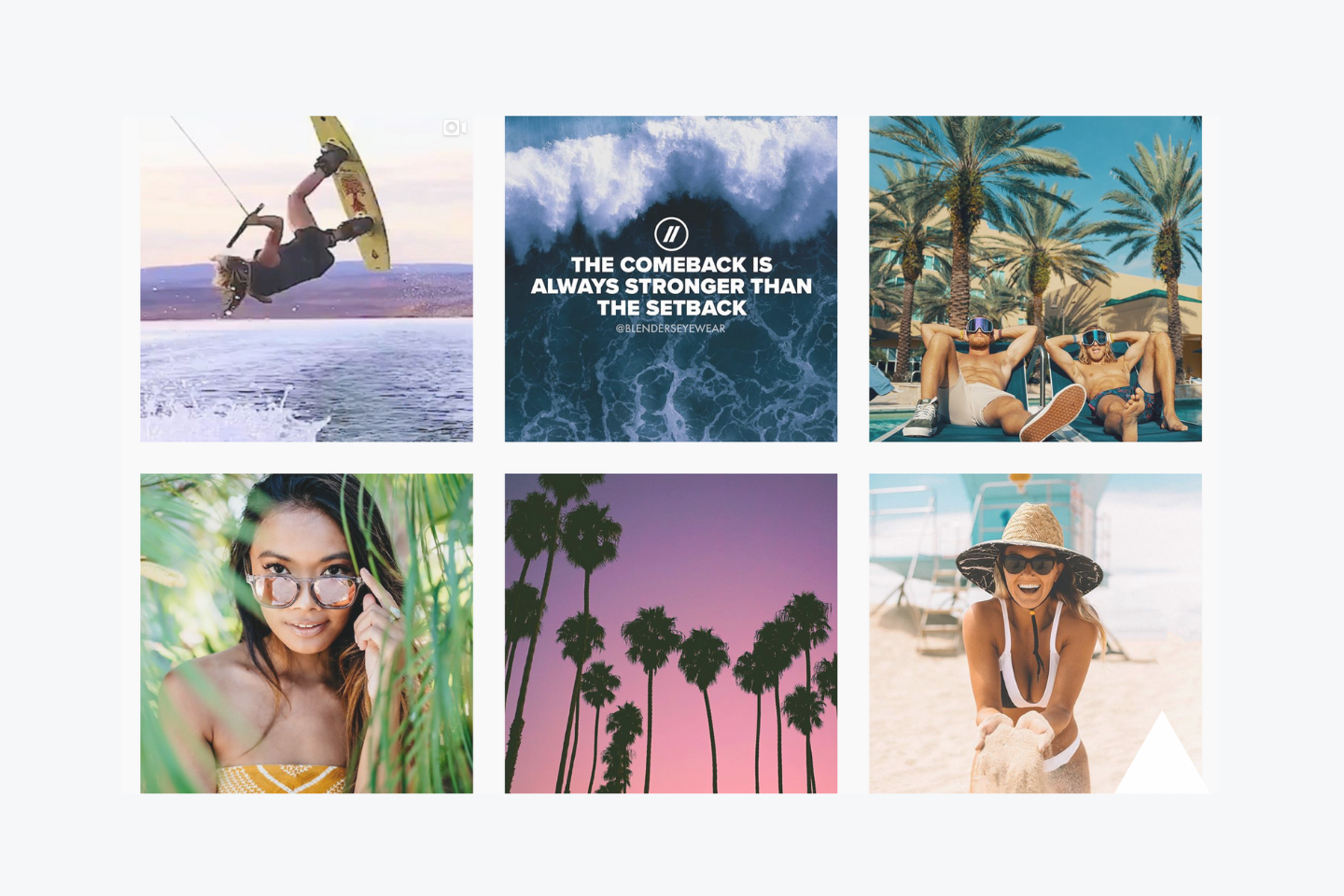 With a 9x year-on-year growth in late 2018, powered by over 1 million followers on its captivating Instagram and Facebook sites, Blenders Eyewear is doing something right to keep expanding its happy customer base.
"We practice what we preach," Blenders director of customer success Lexi Horn tells Influx in an interview.
"We listen to our customers, and we do our darndest to improve ourselves for our customers. We've always asked about their satisfaction."
With this simple, direct approach, Blenders takes its customer support a notch higher with its motto to "live life in forward motion". Its return and exchange policy is people-centric, detailed, and clear in offering a flexible 45-days window.
Every single question is addressed clearly in a box designed with visual hierarchy.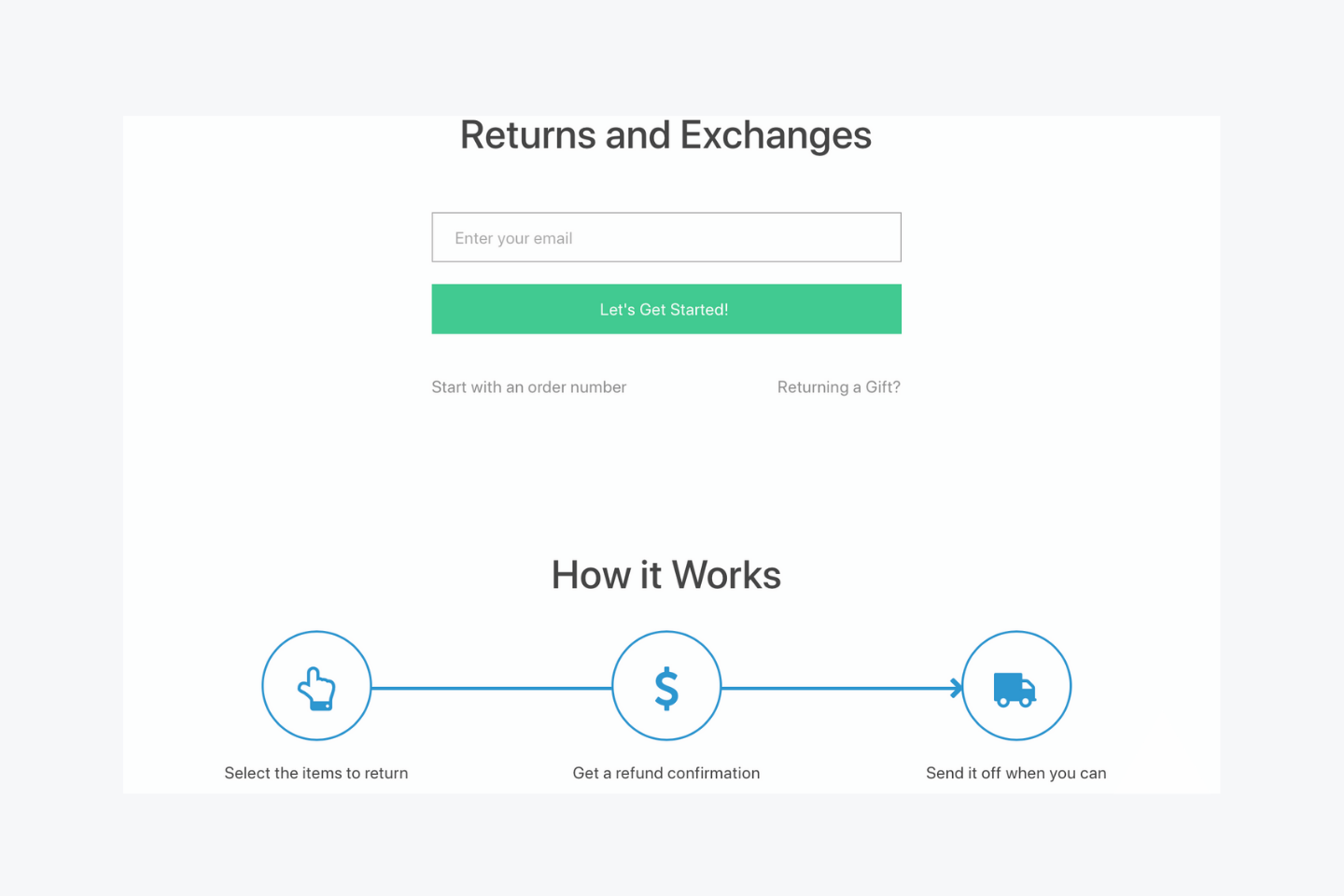 Once Blenders' customers have registered as directed in the FAQ section, they are guided onto a separate portal where step by step instructions keep the process painless and clear.
And in tune with the Blenders brand, its wit is extended to its gift exchange.
How to write a good ecommerce refund policy:
Focus on the customer – customers simply want to get their money back or another product as quickly as possible without any fuss or hassle.

Set the commitment for both parties – details are crucial to convey how the items should be returned so that it is indisputable – original packaging, unworn, in its original state, with its labels, etc.

Be transparent – if you cannot accept certain returns such as items sold during sales or "as is" basis, ensure that this is worded politely and that customers can see the term "no returns".

Make your policy easy to find – keep it visible on your main bar, or under FAQ, or at the checkout page. Offer step-by-step instructions if you need your customers to navigate away from your home page.

Avoid legal-ese or scary language – keep your language simple, clear, direct, and friendly, and avoid using "you must", "you should be clear", or "the responsibility is on you".

Set a deadline – Be upfront about how many days a customer can keep their purchase before deciding to return it. Standard practice is 14-30 days. Some companies choose to go the extra mile by offering an extra month during holiday sales seasons in anticipation that people do take longer to receive or to open their gifts.
Research from Optoro tells us that 55% of shoppers only shop from retailers with flexible return policies. And 97% of shoppers would only continue with retailers that provide a positive returns experience such as free returns or longer return windows.
Need help with faster returns and 24/7 customer service? Check outInflux for eCommerce.