If you work in online retail, chances are anticipation is rapidly mounting for the Black Friday and Cyber Monday surge – and your CX team is gearing up for what's set to be another holiday record year.
No one understands the holiday influx better than our client Laurin Thompke, head of customer support at Casely – one of the world's fastest-growing online retailers, which grew 16,594% in three years, earning them #17 on Inc's 5000 list.
Here are her top seven steps to prepare your team for the holiday spike – so you too can celebrate your success with some champagne on New Year's.
Watch the video or read on below!
1. Plan for known issues
"We start each holiday season by disaster planning. There is so much to think about coming into the huge customer spike – and a lot of it you can anticipate and plan for. At Casely, we start by writing down every issue we have dealt with over the past few years, predict what could happen in the current climate, and create disaster plans for them."
The holiday season can be an overwhelming time. Identifying key pain points and being proactive about problem-solving allows you to stay nimble during the busy season while also meeting your customers' needs with personalized experiences that they will love!

2. Onboard a support partner
"My first year at Casely was tough – we were running a relatively agile, two-person customer support team. During the holiday season, we struggled to keep up and respond to customers within 24 hours. After that first year, we partnered with Influx. What's helped those seasonal spikes was bringing on the additional layer of support – we've been able to stay on top of tickets and respond to customers within 1-3 hours."
Onboarding a support partner to act as an extra layer of support throughout the year can alleviate a tremendous amount of angst going into the holiday season. This additional layer gives you the time you need to respond to support tickets and other customer queries in record time, generating confidence with your customers while giving operational flexibility.
Sourced from @get.casely Instagram
3. Specialize your workflow
*"We manage our support with the help of two CX partners. This allows us to specialize the inbox. We use Simplr to handle FAQs and simple product-related questions through live chat and email. We rely on Influx to go deeper into the customer experience to handle the more complex cases. Having these teams working together has brought our support to the next level, and I feel so much more confident going into this holiday season." *
The more specialized a team becomes, the quicker they can respond to customer needs. Splitting up support responsibilities and specializing the team over varying focuses helps you stay ahead of the game, allowing you to triage incoming tickets with ease – no matter how fierce the queue.

4. Communicate transparently
"Transparency is KEY when coming into any season of scale – you want to make sure you are communicating with your customers at every touchpoint. For example, if you have shipping delays, you want to make sure to update the website, social pages, pop a note in during the checkout period, and communicate timelines via email after purchase.
*It sounds like a lot, but if you start by mapping out the customer journey through the ordering process and before/after shipping, you'll better understand how your customers are feeling every step of the way. By having that understanding, you can provide better support at every instance." *
Peak season can be frustrating for everyone – not everything goes smoothly. But by communicating timelines, delays, or going the extra mile to manage customer expectations, you'll align yourself more closely with your customers and provide them a stronger feeling of support.
5. Automate where you can
*"Automating as much as you can allows you the time to focus on the unexpected. We start by updating our Holiday FAQs, proactively adding FAQ links into our auto-responder in Gorgias – so that people are empowered to self-serve when things ramp up. We also like to review shipping confirmations during these moments of scale and tweak them to communicate common pain points or issues. Last but not least, we update all necessary macros." *
The most significant impact to delivering consistently high-qualitity customer experiences during the holidays is staying ahead of scale. By anticipating common questions and automating those responses, you will free up your team to focus on growth while delivering an exceptional customer experience.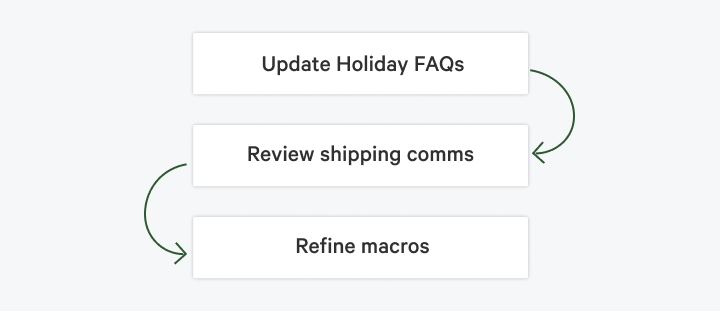 6. Identify your most substantial support issues
"Last year we had record-breaking sales – which was awesome – but that, paired with the impacts of COVID-19, meant we had a pretty substantial backlog of orders. In the D2C world, shipping delays are one of the biggest challenges and something you can easily identify and prepare for. As logistics can be one of the greatest challenges, streamlining communication, focusing on automation, and updating your macros pays dividends."
Backlogs typically happen due to one or more critical issues. By taking a moment to identify where your most significant support volume lies, you can genuinely understand your support buckets and build out a proactive strategy to stay ahead.

7. Celebrate the wins!
*"Digital sales periods are always on, which can wear down your team. Celebrating the wins throughout any major growth period is so important. In my first year, we were absolutely slammed until February. The day we hit inbox zero, we celebrated with champagne." *
Celebrating the wins can come in all forms. It could be a card simply saying "Thank you," a shout-out in the company Slack channel, or a box of chocolates! Acknowledging achievements can act as a motivation lever. Not only do you make sure your team feels appreciated through clear recognition, but you also lift them up during what can be an incredibly challenging time for support teams.

Keen to find out how Influx can help you build a fully flexible customer support team on demand and at scale?
Contact Influx to see how we can help 2x your holiday support this season.